Book Review: Man's Search for Meaning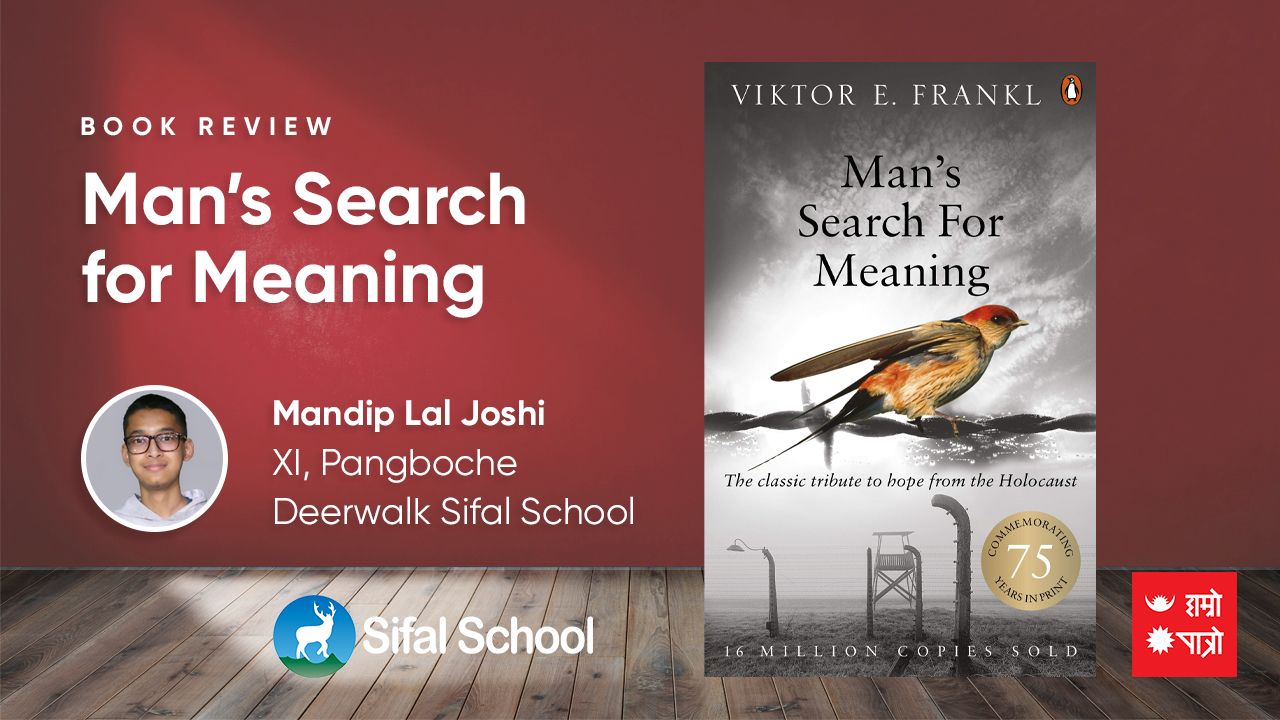 Mandip Lal Joshi

- May 12 2023
Man's Search For Meaning is Viktor E. Frankl's book where he has documented his experience as a prisoner in Nazi concentration camp during World War II. He endured three years in Auschwitz, Dachau, and other concentration camps during World War II. Up until his passing in 1997, Viktor E. Frankl was a professor of neurology and psychiatry at the University of Vienna Medical School. Man's Search For Meaning was first published in 1946 in German Language. It is one of the great books of our time. Usually, if a book contains just one line, just one thought that has the potential to transform a person's life, that alone is reason enough to read it multiple times and make space on one's shelf for it. Similar passages can be found throughout this book. It is a well-known book with many motivational and uplifting phrases.

Man's Search For Meaning is first of all a book about survival. Viktore Frankl was thrown into the Nazi system of concentration and extermination camps, just like so many other German and East European Jews who thought they were safe. In this book, he specifically discusses three psychological stages that the prisoners go through after arriving at the concentration camp. Frankl encouraged and supported them psychologically so they could withstand the brutality of the Nazi soldiers in addition to studying them. He once inspired unnamed prisoners to resist authorities' deadly retaliation. He has learned from his experiences that, hope for the future is the only thing that keeps prisoners alive in the concentration camp; if that hope is lost, the prisoner is doomed. In this book, he has described poignantly the prisoners who gave up on life, who had lost all hope for the future and were inevitably the first to die. They died from a lack of hope, a lack of something to live for, rather than from a lack of food or medicine. Viktore Frankl's account in this book focuses more on the things that gave him the willpower to survive than it does on his struggles, what he endured, and what he lost. Frankl quotes Nietzsche's saying, "He who has a Why to live for can bear almost any How." several times throughout the book. Contrarily, Frankl maintained himself and his hope by thinking of his wife and the possibility of meeting her once more after the war. He also occasionally daydreamed about giving lectures about the psychological lessons to be learned from the Auschwitz experience after the war.

Life is fundamentally a search for meaning, not for pleasure as Freud held or for power as Alfred Adler advocated. Any person's greatest challenge is to discover their life's true purpose. Frankl identified three potential sources of meaning: in work (doing something meaningful), in love, and in life (caring for another person, as Frankl held on to the image of his wife through the darkest days in Auschwitz) and bravery in challenging situations. The way we react to our pain gives it symbolic value; suffering has had no purpose or meaning.

A knowledgeable reader will also discover "Logotherapy," which the author tries to define in the
second section. The nature, purpose, and objectives are all clearly stated. Even the most minute
distinctions between Logotherapy and psychoanalysis are made plain. Frankl generously introduces each Logotherapy idea (such as the existential vacuum, responsibility of survival, existential frustration). He also provides some excellent metaphorical examples and case studies to demonstrate the therapeutic approaches and process. These could be helpful for a new therapist. He tries to clarify how these strategies can be used in conjunction with the typical psycho therapeutic process.

Additionally, a person's life will have purpose if they have the courage to bear suffering. Like Frankl, when he started to view everything in the concentration camp through his mindful psychological lenses, he started to discover the purpose of his existence. He started offering psychological support to others and had the strength to endure his anguish on his own. He also advises looking for significance in both good and terrible things, and using hardship as a springboard for personal growth.

Similar to this, everyone experiences their own issues and suffering that keeps them in the dark. However, by looking for the purpose behind suffering, we can eventually discover the light in the shadows.

Man's Search for Meaning is an inspirational true story. It is an enduring work of survival literature. I find it pretty thrilling to read about Viktor E. Frankl's experiences in the concentration camp and how he overcame the difficulties and sorrows. The manner in which he presented several quotes in this book is also incredibly inspiring and amazing. Some of the quotes are "If there is a meaning in life at all, then there must be a meaning in suffering. Suffering is an ineradicable part of life, even as fate and death.

Without suffering and death human life cannot be complete.", "But let me make it perfectly clear that in no way is suffering necessary to find meaning.", "The crowning experience of all, for the homecoming man, is the wonderful feeling that, after all he has suffered, there is nothing he need fear any more – except his God." and so on. There are several of these appealing elements throughout the book, including motivating experiences, pushing forces, and impactful experiences.

The story mentioned behind the Logotherapy in this book is also interesting and easy to understand as the writer has tried to make it as easy to understand as possible. When someone is chasing a goal, nothing else can stop them. People should venture forth to live life, wild and free, and try new things in the lack of a life goal. This will help them discover what makes them happy in life, and when people do new things, their lives take on new significance. This book "Man's Search For Meaning" by Viktor E. Frankl has incredibly motivating phrases, and because of how well it captured my interest, I personally think of it as a literary masterpiece. Generally speaking, I would recommend this book as a solid introduction to existential psychology and strongly advise people to read more of Viktor E. Frankl's works.
Mandip Lal Joshi
Grade: XI, Pangboche