Book review on 'Jacob Have I Loved'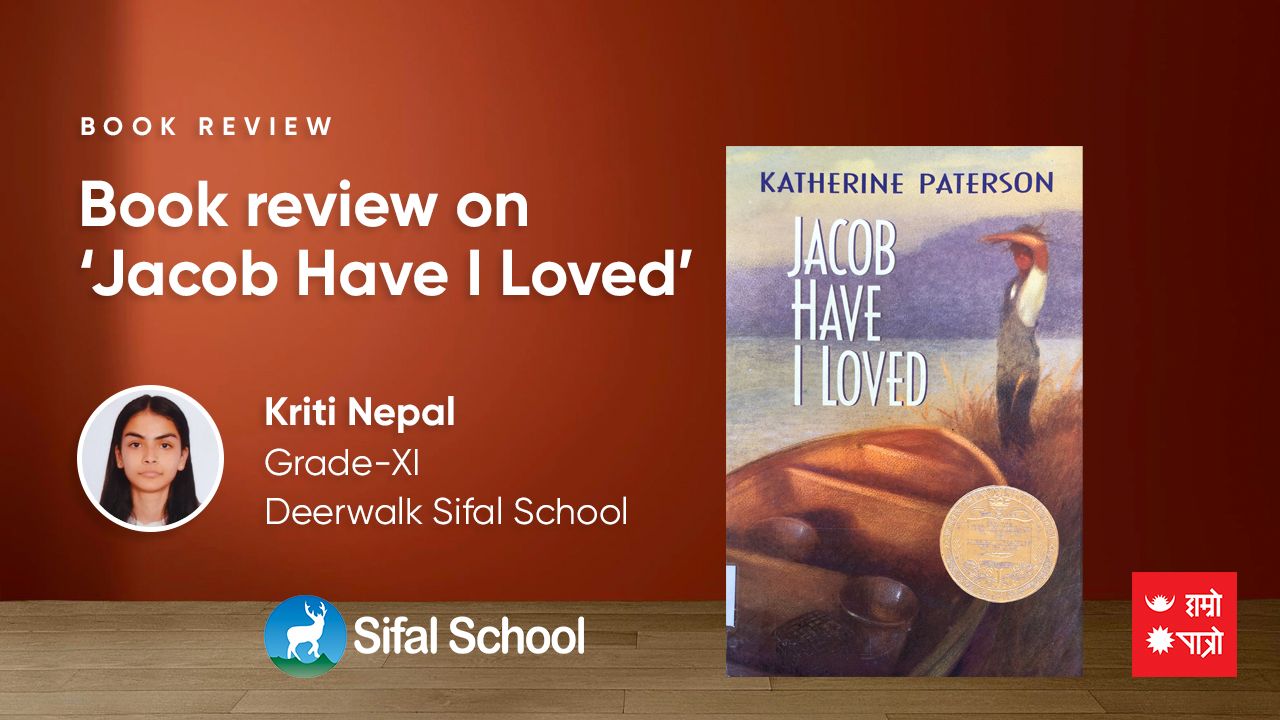 Kriti Nepal

- Aug 26 2022
Plot:
The story is about the protagonist; Sara Louise Bradshaw, who's always hidden behind the shadow of her beautiful and naturally gifted singer twin; Caroline. It is shown how Louise, being the older twin by a few minutes, had treasured only those minutes as that was the only time she was the center of everyone's attention and Caroline soon snatched that for herself. Even when Louise asked about the story of their birth, it would always be about how Caroline had refused to breathe, and all they remember about Louise was that she was just there cleaned in a basket and nothing more. Louise then compares her to Caroline who is elegant, beautiful and loved more whereas Louise was the polar opposite and even wanted to work with her Dad; a waterman like every man on Rass island. However women's and men's work were divided completely in Rass Island. Despite that Louise would go progging crabs with her friend Mc Call Purnell. Louise's life takes a complete turn after the looming threat of WWII and an outsider arrives on Rass Island. Louise who always craved for attention and international recognition thinks of that man as a spy and tries to uncover his identity but realizes he was just an ordinary old inhabitat of the island who had returned. Soon Call, Louise and the old man; Hiram whom she now called captain had bonded well and would spend most of their time at Hiram's house. Whereas Caroline went to the mainland for music lessons. One day, when Call and Louis are in Hiram's house, a cat of a woman named Trudy Braxton is seen and when Louise goes to her house in order to return the cat, she sees Braxton lying on her kitchen floor and thinks she is dead. She rushes to the captain and her dad who then take Braxton to hospital by ferry. A few days later, a huge storm hits Rass so the Bradshaw family invites Captain over to stay the night and later find out his house had been destroyed by the storm. After staying at Bradshaw's for 3 days Hiram moves to Trudy's place and eventually marries her as well. The storm brings an economic crisis in Louise's family and Caroline almost has to give up her music course when Hiram steps in and offers to pay for her fees. Call is enlisted in the navy, Caroline is attending music school in the mainland and Louise is left alone on the island helping her father's oyster collecting. Louise waits for Call's return and when he does, Call announces he is going to marry Caroline and live in New York and study. Louise is left with her Grandma when her parents attend Caroline's wedding. Christmas arrives when Louise and her Grandma invite the captain over for lunch.

Louise then confronts the captain who helps her think about what she really wants to do in her life. Louise then soon moves to another island where she becomes a nurse and helps deliver twins; one healthy but another blue and almost not breathing. It then reflects the life of Louise and Caroline in a circle.

Critical analysis:
Despite being best known for children's literature, Katherine Paterson's books revolve around heavy themes filled with sentiment and compassion, including good story telling. Even in 'Jacob have I loved', she has shown her immaculate story writing which can be relatable to several readers, yet leaves them stunned by the ending of the story. The book has shown some very strong themes that can be very relatable to the present world. Some that stood out for me personally were:
● Gender roles: Since this novel is set around 1914, we can clearly see how the gender roles for men and women are separated. We can see that all the women of Rass Island were involved in household works whereas the men were watermen. Even the main protagonist, despite wanting to work with her dad and go out to the water, was stopped from doing so only because she was a woman.

● Breaking gender norms: Gender roles was one of the major thing portrayed in the story however, in the book we see our main character Louise despite having to grow up in an island with gender stereo typicality where the work for men and women are completely different, she works hard and provides some extra cash for her family from progging for crab which she likes despite it being considered a "man's" work. She also helps her dad; a waterman, in his boat for oysters collecting. This shows Louise breaking the gender norms and doing what she likes the most despite it being considered a role for men.

● Everyone is different: The story shows how not everyone is equally talented but everyone has their own unique trait. We can see Caroline being a delicate and beautiful singer, Louise being proud of her strength and more. This shows that not everyone has the same talent but everyone is unique and useful in their own way.

● Siblings bond/rivalry: One of the major explored themes in this story is sibling's bond/rivalry. It is shown how Caroline and Louise both can't stand each other however, both in some way or another try to look out for each other. Caroline and Louise also have been compared with each other since birth; Caroline is considered more of a genius and feminine character whereas Louise is considered less feminine. Louise is also called "Wheeze" after Caroline had given her that nickname. This shows the bond/ rivalry between the two sisters that I personally found very relatable.

● Jealousy and child nature: Jealousy is one of the major themes exercised in the novel. It portrays how Louise is jealous of her younger yet beautiful, delicate and talented twin sister Caroline and even comes to hate her. Louise also gets jealous of Call and the captain getting closer since she did not want to lose Call; her only friend to the captain. Again we see Louise get jealous of Caroline and her getting closer to both Call and the captain. This also portrays Louise's nature as a child which as time goes by gets mature.

● Insecurity despite young age: Even though Louise is a young teen the way she has grown up has made her feel insecure and lose sense of self being completely overshadowed by her sister. This makes Louise grow more insecure about how she carries herself compared to her picture perfect sister.

● Blame needs to be put on someone to console self: In the novel we see Louise come to a realization of how to console oneself, for our own unhappiness we need to put the blame on someone. In the story we see how Louise goes from putting blame on Caroline, her grandma, her mother and eventually herself and the war.

Even though this book is young-adult fiction, mostly the heavy topics have been portrayed in the story that I found very commendable.

Opinion:
Even though the plot did not go towards the way I had expected it to go and had made me a bit disappointed in the middle of the story, the ending surely didn't disappoint me. The story was surprisingly easy to read and understand yet it was fully filled with emotions that made the reader more attached to the book. The unique but realistic characters made the story a bit more enjoyable to read. I also liked the fact that despite being a book of complete fiction, it never failed to portray the reality of life through its themes. I also liked the fact that the title 'Jacob have I loved' fit the book perfectly since it was from the bible verse 9:13 where the older twin Esau is hated by god but the younger twin Jacob is loved which shows Louise and Caroline's story. The book has good and interesting aspects to it and I would have recommended this book to everyone if not for some of the factors that I personally did not like in the story. Some of the few things I did not like were; Louise's annoying and childish behavior through the middle of the story, the buildup for war in the beginning didn't really play that important of a part like it could have, Louise falling in love with a captain who's older than her grandma and more. Compared to other works of Katherine Paterson's work like Bridge to Terabithia this book is not as good however it would not harm to have a read.

Book review on 'Jacob Have I Loved'
By: Kriti Nepal, Grade-XI
Author: Katherine Paterson
Originally Published on: 1980
Genre: Young adult fiction, Fiction, Historical Novel, Coming of age