Chaitey Dashain/Seto Machindranath Rath Yatra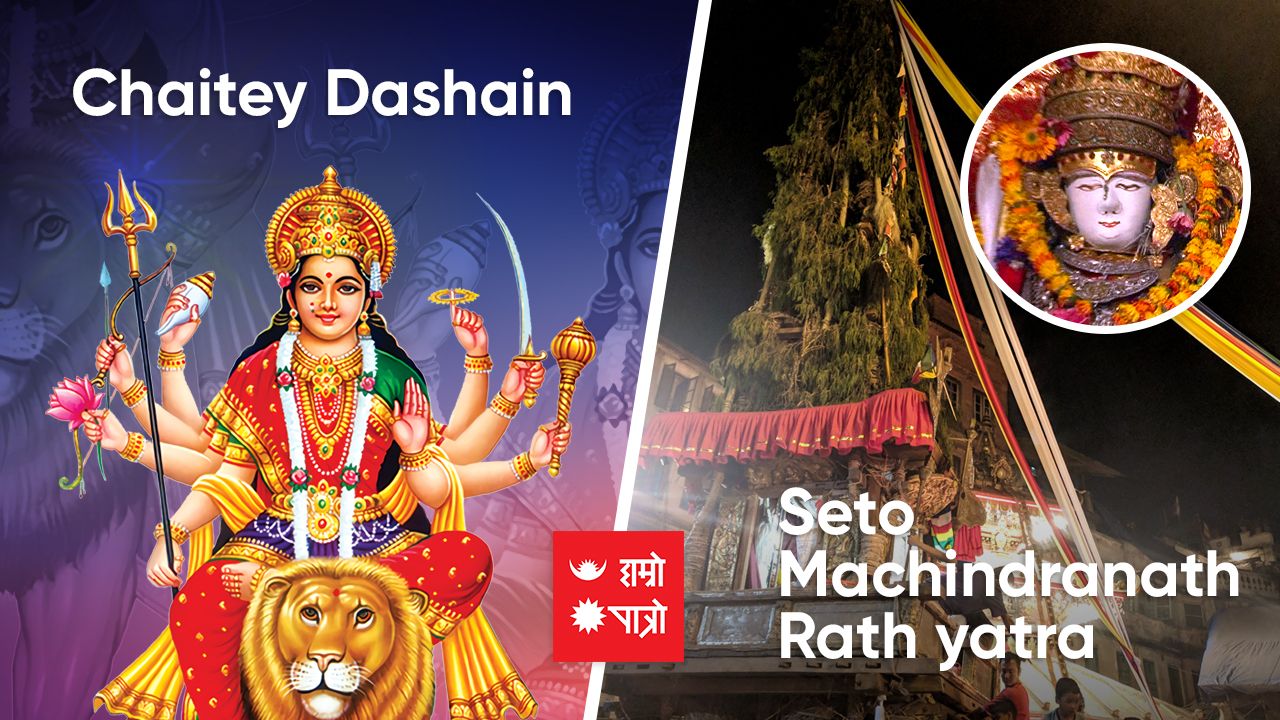 Replica of the Main Dashain
On the one hand, this year's farewell is on the edge as Chaitey Dashain knocks, and on the other hand, the New Year's roan is hitting the bell. Dashain, the great festival of Nepali people and a festival carrying cultural significance famous as Navratri. This Chaitey Dashain is a reflection of the main Dashain that occurs during Asoj, Kartik of Bikram Sambat calendar. According to the myths, in the past, the main Dashain used to fall in Chait but due to the dry seasons and frequently occurring droughts later Dashain was shifted to Asoj Kartik (Middle of the year).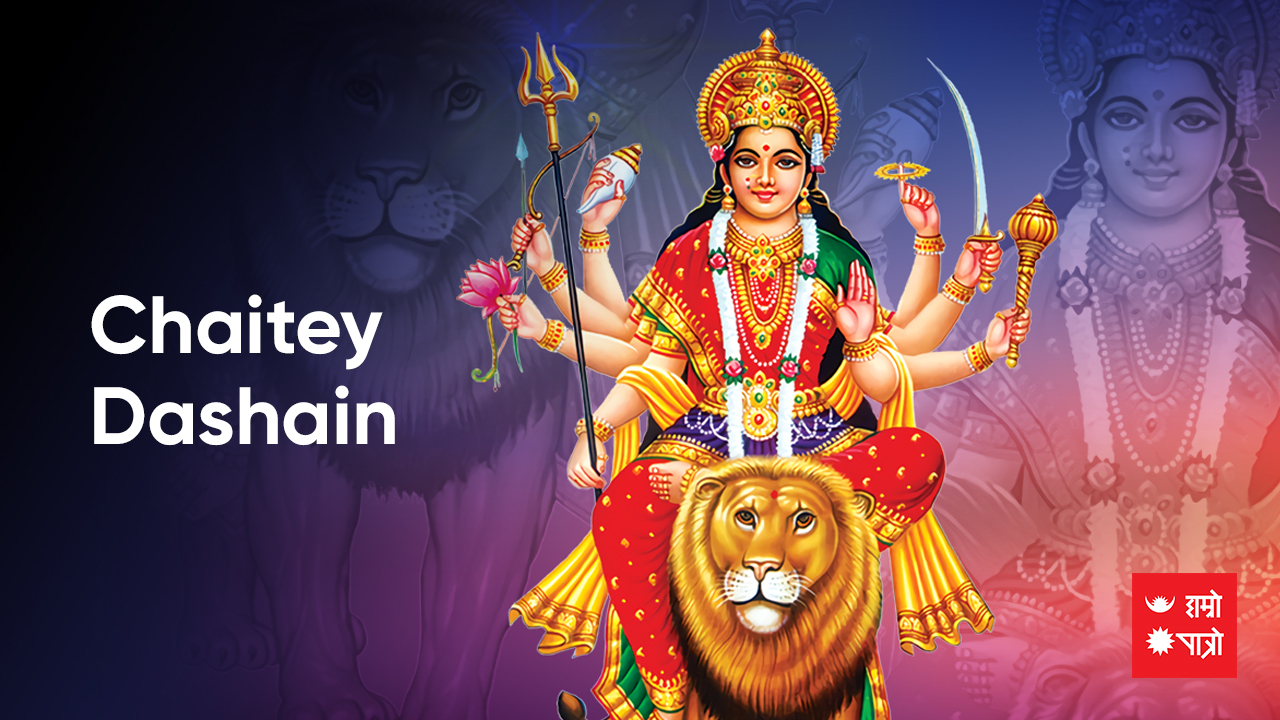 Whatever it is, the roan of Chaitey Dashain is not an inch less than the main Dashain. Asian nations like India, Bangladesh and Myanmar observes this Dashain as Chaitra Navaratri.

Chaitra Shukla asthami
Dashain falls in Dashami tithi (tenth day) but here at Nepal we commemorate Chaitey Dashain on Asthami (Eight Day) because this eight-day is a day of scarifying our wills, desires and also offering animals to Goddesses Bhawani. Dakshinkali, Shovavagwati, Maitidevi, RaktaKali, Sankata, Guheswori of Kathmandu valley is filled with devotees in this day, Nepal army also commemorates this day in their own way.

From ancient times, the process of offering sacrifices has been going on in Kathmandu Valley. Outside the valley, at Bhagwati temples and Shakti Peethas, the devotees observe prayers and congregations. In some Bhagwati temples, there is a grand fair. Lord Rama returned back from his 14 years of exile, on this day. This day is the purest depiction of the truth against the false, light against darkness and humanity against inhumane attributes.

Falsehood and inequality may decrease, truth and righteousness must always prevail. The importance of truth lies more than falsehood. Hail the lord!!!!

Bhaumasthami
Chaitra Dashain means the Dashain that falls in Chaitra. Navratri is worshiped in this Dashami as in the main Dashain. Even though it is called Chaite Dashain, today's tithi is Ashtami. It may be that the eighth day of Chaitra Navaratri has been brought into vogue as offerings, food, and feasts.

This is also practical because the practice of Tika is not given much importance in Chaite Dashain. After this, considering Ashtami as Dashain, it becomes easy to have a pleasant atmosphere for all the family and friends.

In this way, Ashtami Tithi is the day of Dashain fast, but it is also customary to fast Bhoomashtami on this day. Followers of Sanatan Dharma can celebrate and remember every festival in their way. The practice of fasting for spiritual fruits on this day is unique in itself.

In Bhaumashtami fast, especially worship of Mars and planetary peace is also done. There are many fruits of worshiping Shakti on the eighth day. There is a tradition of worshiping and adoring Gorakhkali Bhagwati in Bhaumashtami, especially in the temple of Bhagwati Gorakhkali in Gorkha.

As in other vrata, it is customary to get up in the morning to take a bath, sing hymns, worship and study the holy books and meditate. Good luck to everyone on this year's Bhoomshtami.

Seto Machindranath Rath Yatra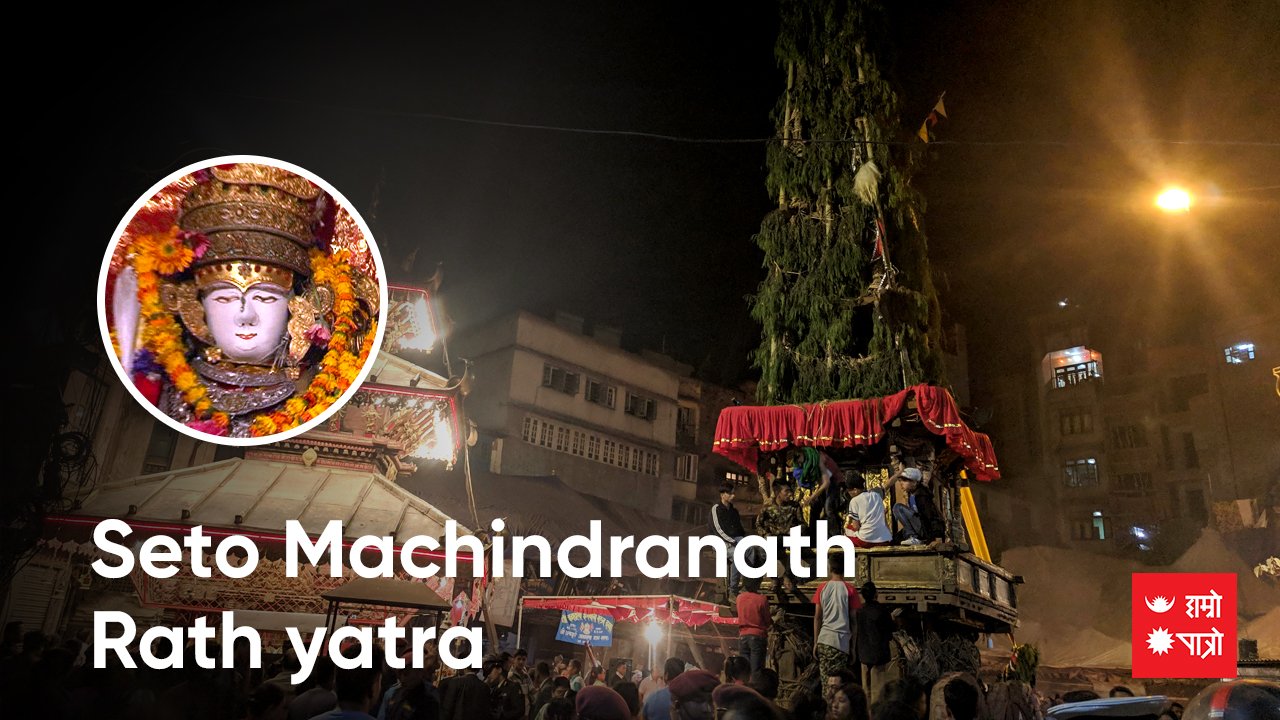 Between Asan and Indrachowk in Kathmandu, there is a temple of Janabaha Dya, which is considered a historical temple established in the 10th century.This compassionate Janabaha Dya, Machhindranath is also called Avalokitesvara, Avalokitesvara, meaning the god of totality. On the other hand, Avalokitesvara is also understood in Sanskrit as the deity of the lotus flower. Every dimension of Bodhisattva coincides with Avalokitesvara.

Ancient tradition of the Kathmandu civilization
As we all know, Kathmandu is not only a city but also a civilization.

Seto Machhindranath i.e.Avalokitesvara is one among the several ancient tradition and procession of this ancient Kathmandu. Machindranath, the God who sees his devotees back on earth, loves them and shares their love. Although this procession, which is believed to have started from the 6th century, has been widely used since the 17th century.

This procession starts on the 8th day of Chaula in the sixth month of Nepal Samvat and ends on the 10th day.

Janabaha Dya: Jatra of Seto Machhindranath as a procession It is customary to carry the statue of Machhindranath in a chariot every year.

History of the seto Machindranath Rathyatra
White-skinned and half-closed deities command King Yaksha Malla to build a temple for them to visit in Kalimati and Bagmati. Doing so is believed to bring happiness and the gift of long life to the people of the kingdom. Starting on the eighth day of the month of Chaitra, this rath yatra is a three-day festival that correlates from the time of King Yaksha Malla.

You may be surprised that the beginning of this journey may have taken place in the month of Poush, but this is the truth. Every year on the eighth day of Shukla Paksha in the month of Poush, Machhindranath's chariot is taken to the Machhindranath temple and cleaned with milk, ghee, etc. The living goddess Kumari also participates in this program. In this way, the chariot or so-called khata, which has been prepared in the month of Poush, is used in this procession of Chaitra.

I wish all the best for the journey of Seto Machhindranath in the year 2079 BS.

Suyog Dhakal