niff २०१९ मा तेश्रो दिन प्रदर्शन हुने चलचित्रहरुको पूर्ण बिवरण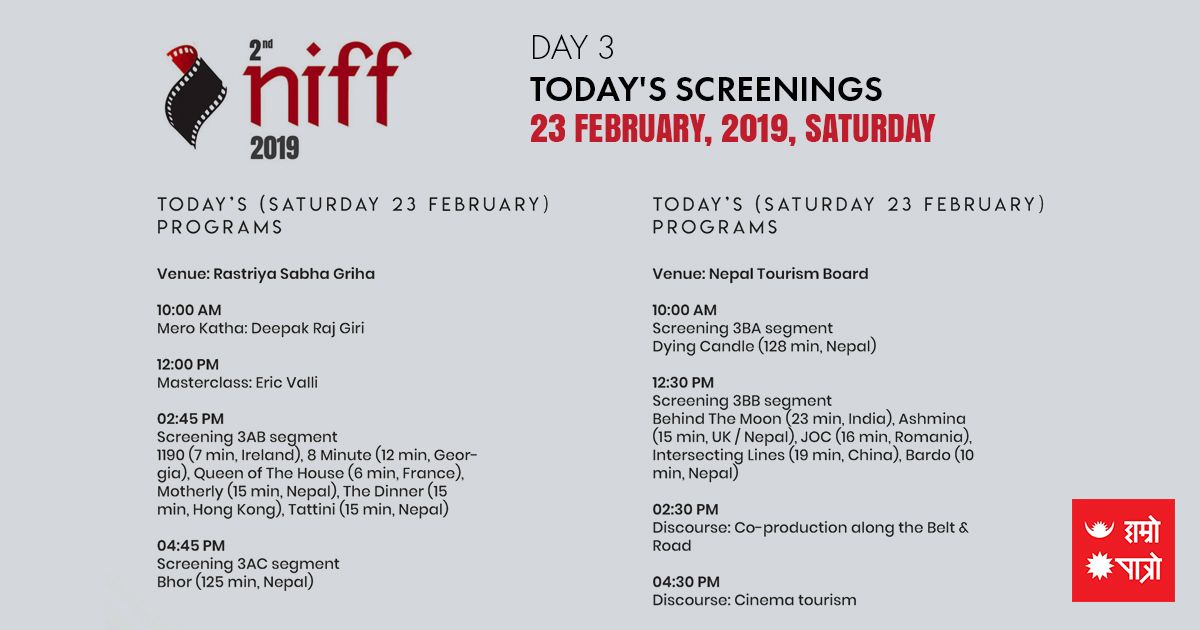 नेपालसहित विश्वका ३१ राष्ट्रका ५९ वटा चलचित्रहरु क्रमस राष्ट्रिय सभा गृह र नेपाल टुरिजम बोर्डको भवनमा प्रदर्शन गरिने niff २०१९मा आज प्रदर्शन हुने चलचित्रको पूर्ण बिवरण।

Rashtriya Sabha Griha
Mero Katha: Deepak Raj Giri (Free Entry To all)
1 hour segment with Deepak Raj Giri, where the popular actor / writer / producer / director will share his story with the audience. Storytelling will be followed up by a Q&A session with the actor.

12:00 PM - 02:45 PM
Masterclass: Eric Valli (Free Entry to all)
A session with twice Oscar nominated director, and also the director of 'Himalaya', Nepal's first nomination in the Oscars. Learn more about the art of film making from the master, Eric Valli, himself.

02:45 PM - 04:45 PM
1190 30 min
dir. Andej Gavriss,
Ireland

8 - minute 13 min
dir. Giorgi Gogichaishvili, Davit
Abramishvili
Georgia,

The Queen of The House 6 min
dir. Isabel Pérez del Pulgar
France,

Motherly 15 min
dir. Prashanna Mali
Nepal,

The Dinner 15 min
dir. Tin Long Chan
Hong Kong SAR,

Tattini 15 min
dir. Abinash Bikram Shah
Nepal

04:45 PM - 07:00 PM

Bhor 125 min
dir. Yadav Kumar Bhattarai
Nepal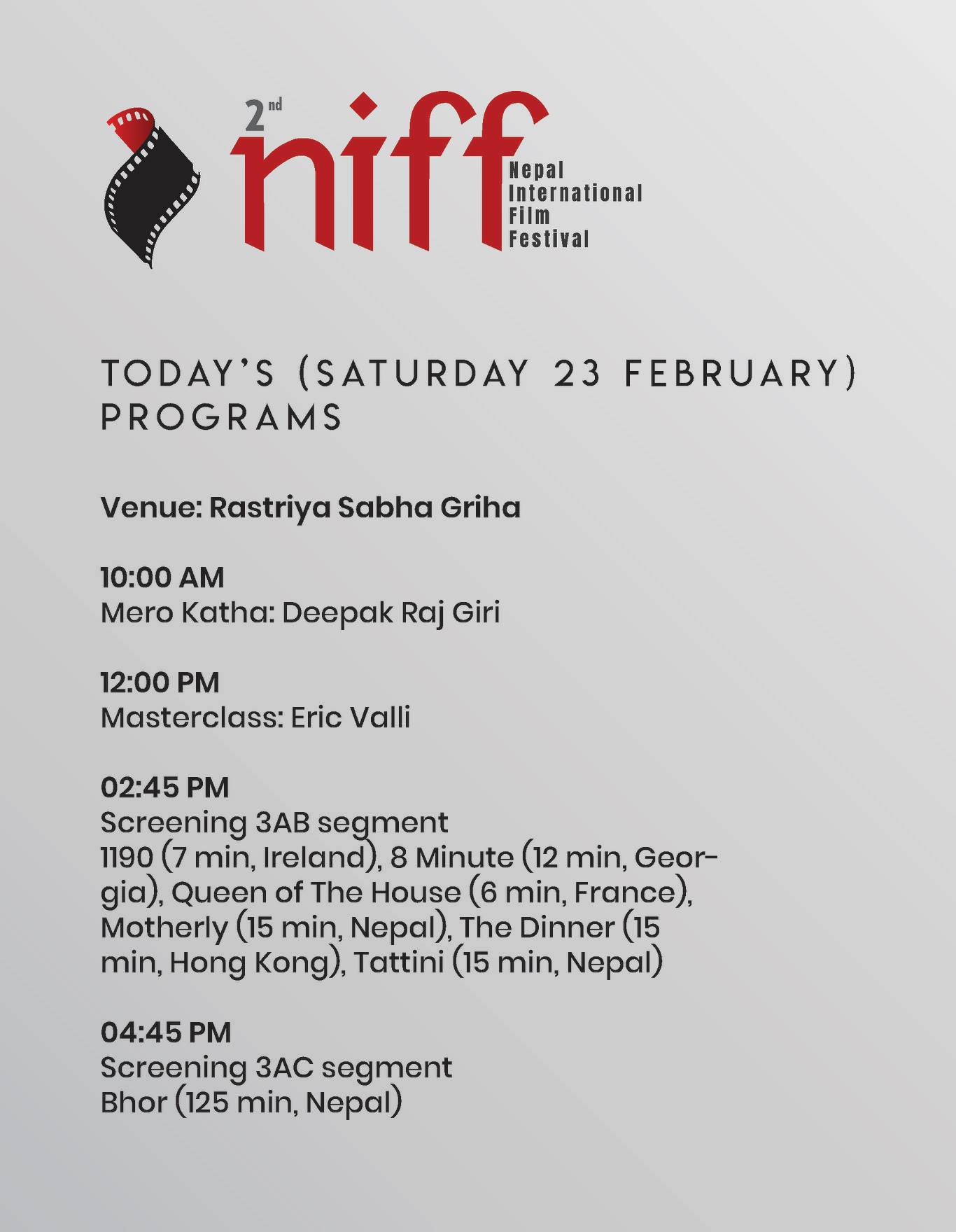 Nepal Tourism Board

10:00 AM - 12:30 PM
Dying Candle 128 min
dir. Naresh Kumar K.C
Nepal

12:30 PM - 02:30 PM

Behind The Moon 23 min
N E P A L P R E M I E R E
dir. Samrat Chakraborty
India

Ashmina 15 min
dir. Dekel Berenson
United Kingdom / Nepal

JOC 16 min
dir. Andreea Valean
Romania

The Intersecting Lines 19 min
N E P A L P R E M I E R E
dir. Wang Mingduan
China

Bardo 10 min
dir. Pasang Tsering Chhortenpa
Nepal

02:30 PM - 04:30 PM

Co-production along the belt & road: Opportunities for collab (Free Entry)
Panelists:
Film maker Tsering Ritar Sherpa (Nepal),
Director / Prof. Qiao Liang (China),
film critic / activist: Premendra Mazumder (India),
Actor / director: Ishtiaque Zico (Bangladesh)
Moderator:
Film maker / journalist: Arun Dev Joshi

04:30 PM - 06:00 PM
The Concept of Cinema Tourism and what it means for Nepal (Free Entry)
Panelists:
Senior director / lyricist: Yadhav Kharel,
CEO of Nepal Tourism Board (NTB): Deepak Raj Joshi,
Tourism entreprenuer: Bikram Pandey
Moderator: Actor / tourism entreprenuer Rajan Simkhada