Hamro Patro Health - A Platform That Matters to All of Us!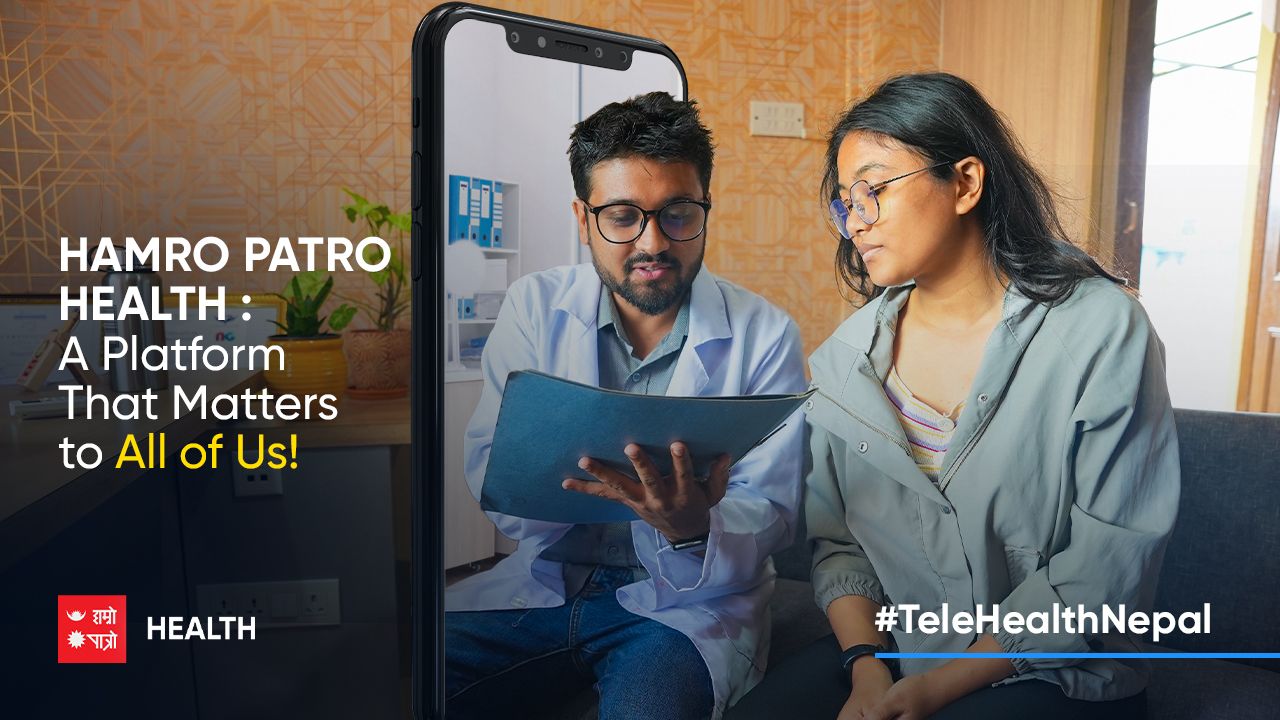 At least once in our life, we've heard the phrase "Health is wealth." But this isn't just a saying; it's a fundamental truth. Ignoring our health can risk our ability to achieve desired goals.
No healthy life means no happy life, if we become healthy our life itself becomes cheerful. Most of the time we seem careless about a general consultation with a specialist doctor, when in doubt about our health condition. Most of us don't go to hospital unless we become seriously ill. In today's fast-paced world, making time to visit a hospital to consult with specialized doctors is challenging. That's where "Hamro Patro Health" comes in.
Society often stigmatizes certain health issues related to sexual and mental well-being. Individuals experiencing sexual health problems may find it challenging to communicate their concerns or seek medical attention due to fears of judgment. Similarly, mental health has become a common problem, and many of us experience it at some point in life. What happens when someone struggling with mental or sexual health doesn't get the care they need? This is where "Hamro Patro Health" steps in.
Most of the remote areas of Nepal still don't have proper health accessibility. Many people have lost their lives just because of the lack of health awareness and facilities. Isn't it such a scary thing for people living in remote areas? For these situations, "Hamro Patro Health" is there.
Living abroad and experiencing health illness? This situation may occur to any of us. You might seek a consultation, but in abroad securing an appointment with a renowned doctor at your necessary time is often challenging. In such a condition, what could be more convenient than consulting Nepal's top doctors in your own language, right from where you are? For this kind of situation, we have "Hamro Patro Health"
Everybody cares about their families and wants to be with them but for some reason, we might be apart. You are abroad and your family member or beloved person in Nepal is experiencing health issues! In such times, wouldn't it be wonderful when you can show your care, with the help they need? For this kind of situation, we have "Hamro Patro Health". With Hamro Patro Health, you can make a conference call that allows you to connect your dear one with a specialist doctor to consult about their health concerns.
Hamro Patro Health, a platform that offers a virtual health consultation with the accessibility of more than 250+ renowned doctors and 20+ Specialities, revolutionizing healthcare accessibility in Nepal. Undoubtedly, we all can benefit from this platform.
Advantages of using "Hamro Patro Health":


Access to Specialities Anytime, Anywhere: The platform allows you to consult specialist doctors from the comfort of your zone, ensuring healthcare is available whenever needed.
Ensured Privacy and Security:
Your conversations with doctors are protected with end-to-end encryption, ensuring that your personal health information remains confidential and secure.
Convenient Appointment Scheduling: You can schedule appointments with a specialist medical person at your preferred time, fitting healthcare into your busy schedule.
Bridging the Gap for Remote Patients: Patients living in remote areas can now easily connect with specialist doctors, breaking down geographical barriers to healthcare access with the help of technology.
Easy Conference Calls: You can involve your loved ones during your health consultation via conference calls, fostering support for informed healthcare decisions. With Hamro Patro Health, you can also make a conference call with a medical expert doctor along with your loved ones to discuss your loved one's health problems.
Before your health condition becomes worse or living with unwavering health queries health consultation can be an amazing step to live a happy life. Don't wait for the right time just to consult with a specialist doctor for any health concern. Instead schedule an appointment with experts. Your journey to better health starts with a few clicks.
Learn how to consult with doctor in Hamro Patro Health