Ghatasthapana | International Day of Rural Women | Global Handwashing Day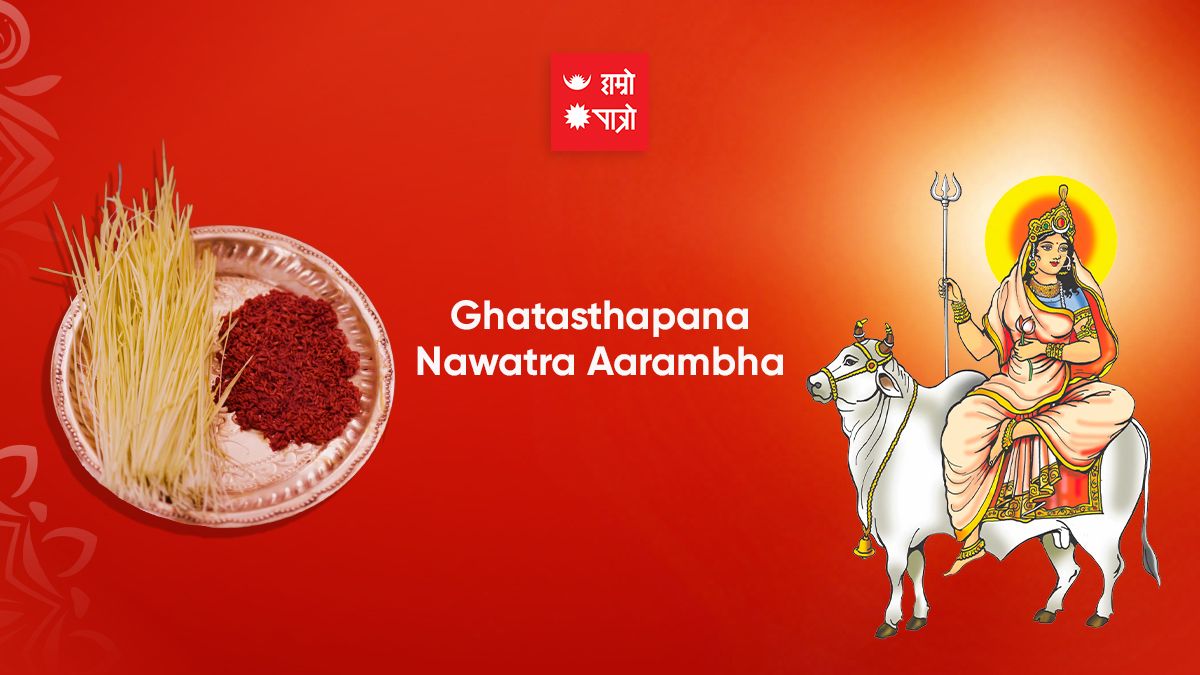 Ghatasthapana, Navaratri commences
Durga Mantra
सर्वमङ्गलमाङ्गल्ये शिवे सर्वार्थसाधिके ।
शरण्ये त्र्यम्बके गौरि नारायणि नमोऽस्तु ते ॥

She is the most auspicious one and the one who bestows auspiciousness upon all of the world. She is pure and holy. She protects those who surrender to her and is also called the Mother of the three worlds and is Gauri, daughter of mountain king. We bow down to Mother Durga again and again. We worship her.'

Arrival of Dashain
Whatever the anecdote is, Dashain has finally arrived at every doorstep. This year's Dashain can be very different and tragic in terms of blessing and gathering, Corona's infection risk and the deep pit of the economy may result in less proportionate Dashain to everyone's door this year, but, certainly, the joy and mood of Dashain will not diminish. Let's redefine the Dashain where we are, shall we?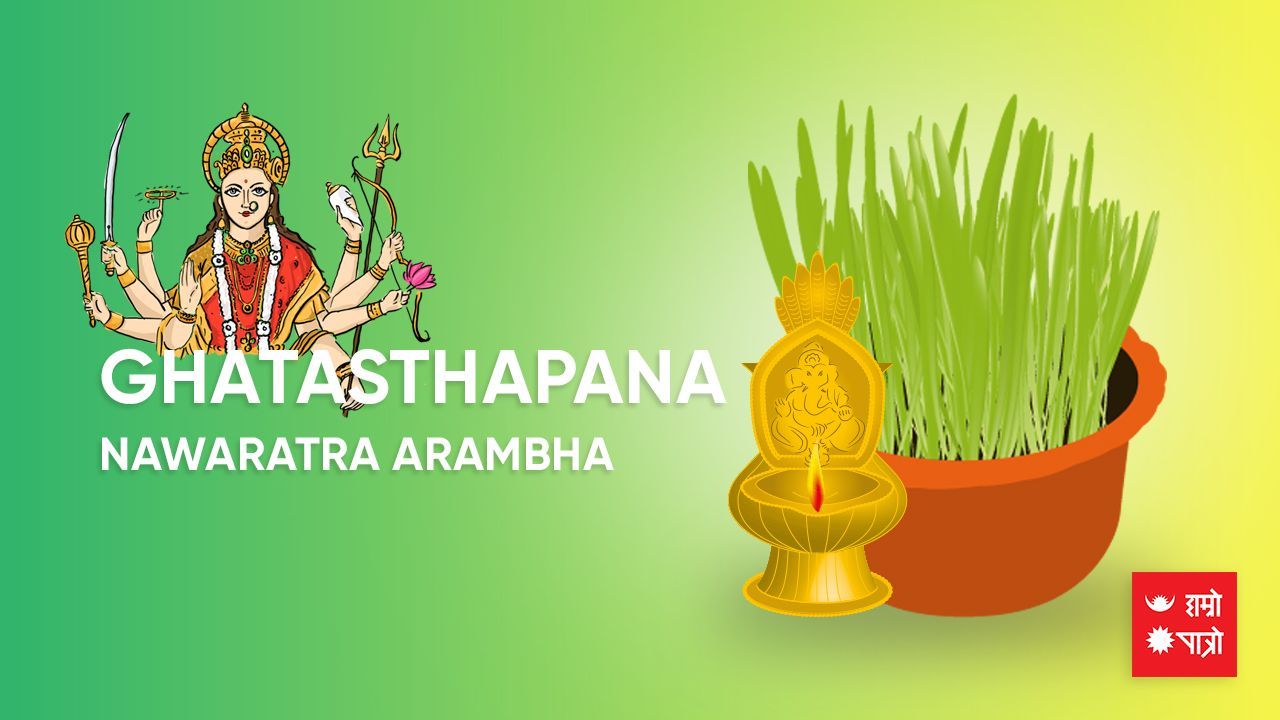 What is Jamara?

Ghatasthapana is the auspicious day when we plant "Jamara" at our house, a sacred place is prepared inside the house where soils are kept and seeds of barley, maize, paddy, and other crops are sowed. For the next nine days that place is worshipped and finally on the tenth day, the germinations from those seeds are used in worship and given to Youngers by elders as a sign of blessings and love.

Although jamara is the germination of barley, the jamara of Dashain includes barley, paddy, and maize. This culture associated with soil, water, air, flowers, and sprouts makes it clear that we are very close to plants and nature.

Navratri starts today
Navratri started today, now every morning there is a crowd of devotees in all the new Durga Bhagwati Shakti Peeths of the country. But this year it's different, there shall be no crowds and gatherings, everything happens inside the house.

The practice of germinating Dashain Jamara varies from place to place. In some places, Jamara is deposited in a Guthi or Shaktipith and a temple by setting up a Dashainghar collectively or individually in the worship room of one's own house or some other clean place of the house.

By keeping this barley germination on the head, every Nepali shall get the power of Durga Bhawani with harmony, virtue, and prosperity. In the same way, nature may have given us information about our roots, that is, our culture, traditions, and human bases. No matter how big, tall, and thick the plants are, even if their branches try to touch the sky, their roots are in the soil.

That is to say, no matter how much we change or progress and touch the sky, it shows the importance of not forgetting the foundation of our precious material culture and tradition.

Happy Wishes

International Day of Rural Women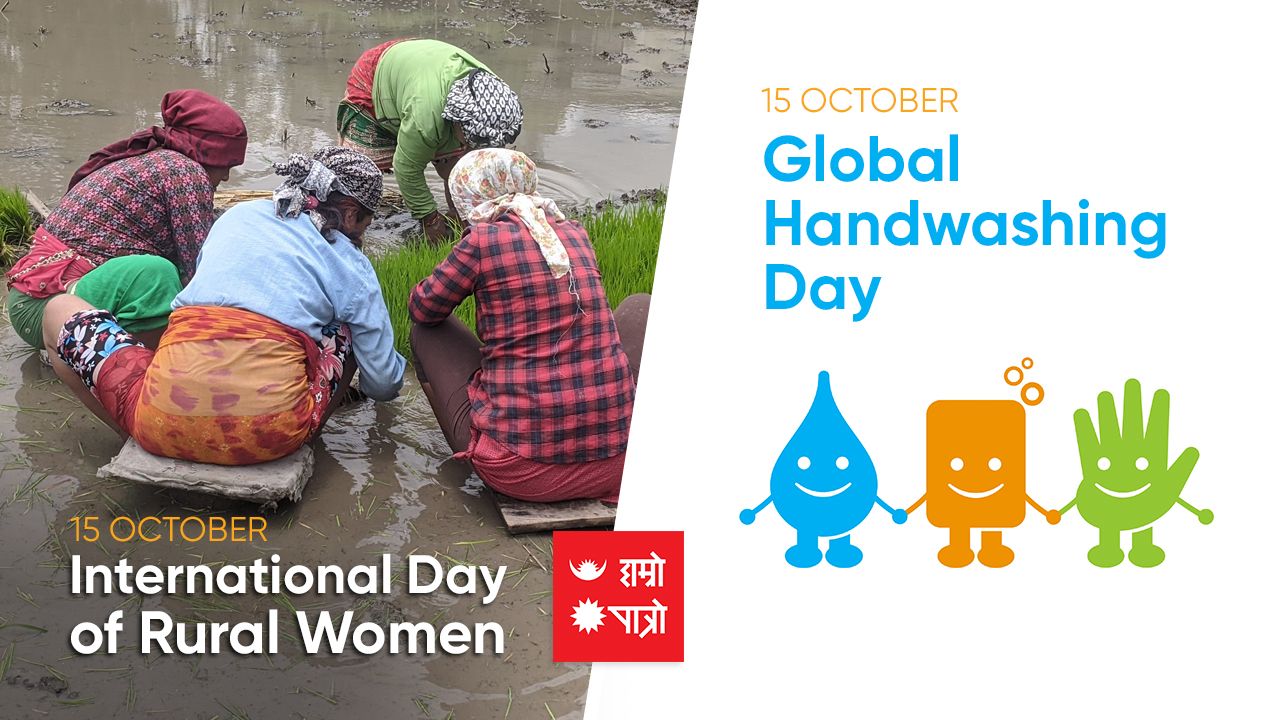 International Day of Rural women 2023: "DigitALL: Innovation and technology for gender equality

Background:
Rural Women's Day is celebrated with the sacred spirit of bringing limited rural women to a place where they can play an important role in the family and society. Another major purpose of the day is to help rural women reduce poverty by participating in income-generating activities other than household chores.

According to the decision of the United Nations to celebrate this day on December 18, 2007, the process of celebrating this day has started globally from October 15, 2008.

Respecting the role of rural women in Nepal, this day It has been celebrated since 2070 BS. As economic, environmental, and social change is needed for sustainable development, the United Nations is of the view that rural women should be the key representatives. In developing countries like Nepal, women do not have adequate access to wealth, health, and education. Recognizing rural women as capable citizens through empowerment is believed to bring prosperity to the family and the country as a whole.

Women have largely contributed a lot to the development of the rural economy. In particular, women make significant contributions to food production, livestock, domestic labor management, and water and food management. Besides, women have the greatest responsibility in caring for the children, senior citizens, and patients in the family.

These roles have justified women's equal participation in open opportunities with traditional responsibilities. Women participation has become very loud in Nepal. Not only in the urban areas but also the small-scale development projects reaching the villages, the policy of mandatory participation of women has brought awareness among the rural women.

Unless adequate and meaningful efforts for the development of rural women, the country will not develop. The development of more than half of the women is an essential aspect especially for a nation like Nepal. This is why this day is largely important for a developing nation like Nepal.

Existing social inequality, economic and cultural differences between men and women remain. That is why the balanced and sustainable development of the nation cannot be accepted without the equal participation of men and women.

Due to various movements and campaigns, the United Nations celebrated 1975 as the United Nations Women's Year. Similarly, various declarations were issued declaring the period from 1975 to 1985 as Women's Decade.

Efforts were made for gender equality, promotion, and women's empowerment in line with the Millennium Development Goals from 2000 to 2015.

Accordingly, separate programs and plans have been formulated and implemented in underdeveloped countries like Nepal.

Global Handwashing Day

Global statistics of handwashing
According to statistics, millions of people around the world have died due to various diseases and infections. Remember that diarrhea is still a major cause of death for about 18 million children worldwide each year. It may seem strange to hear that even the practice of hand washing regularly and effectively can save millions of lives. Not just saving lives but also controlling the transmission of deadly viruses like COVID 19, hand washing now has even more importance in the post-COVID new normal.

On average, one in three newborns in the world is infected with diarrhea. Proper hand washing, use of clean water, and effective use of soapy water will keep the hands clean and prevent diarrhea. In the beginning, it was customary in Nepali society to wash hands with mud or ash water, but soap water is more effective than clay or ash water.

History:
Keeping this fact in mind, World Hand washing Day is celebrated on October 15 every year to raise awareness of hygiene and health for all children and the elderly in the world. This day has been celebrated since 2008. In Nepal too, this day is celebrated grandly with the meaningful participation of the Government of Nepal, Ministry of Health, and various other non-governmental organizations.

According to the World Health Organization, hand washing is essential in the following situations:

After going to the toilet and touching the baby's nappy or throwing away their excrete, before eating and eating, before cooking, after touching raw food or before and after meeting patients, after smoking, after touching garbage or working in the garden, after touching animals.

Theme 2023
Clean hands are within reach Global Handwashing Day 2023 is themed "Clean hands are within reach".

The campaign says, "Through strong leadership and collective efforts, we can close gaps in access and practice to achieve hand hygiene for all. Everyone has a role to play to ensure clean hands are within reach."

How to wash hands?
First, soak your hands in clean water.
Apply soap on hands, soak in soapy water for at least 20 seconds.
Grind both the hands together and bring the soap to the fingertips
When washing in this way, the back of the hand, under the nail tips, the cut of the finger, and the wrists are to be washed.
When washing in this way, remove the rings and watch and clean the hands.
It is usually more important to use tap or fountain water than to use reserved water when washing hands.
Remember, germs are everywhere and we can't see these germs. These germs make us sick. Washing our hands with soap and water protects us from disease or infection. It would be wiser to avoid such diseases by washing your hands than to stay in the hospital due to infection of various diseases due to not washing your hands.

- Suyog Dhakal