Brish Sakranti | International Day of Families | Lalitpur Matsyanarayan Ratha Yatrarambha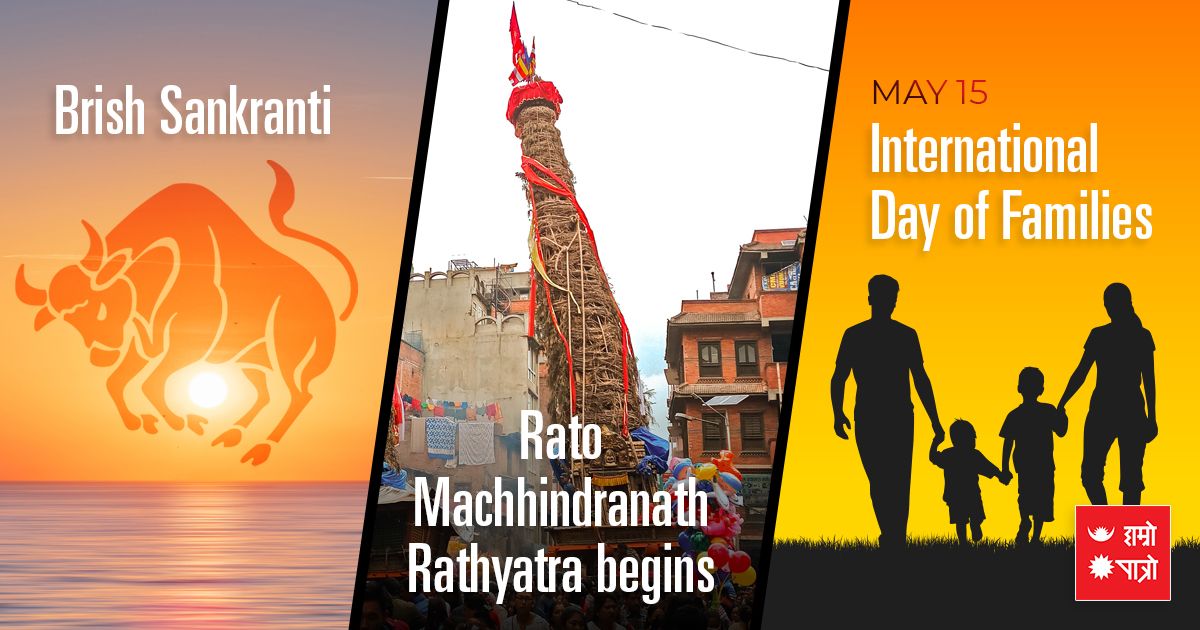 The Sun is entering Taurus from Aries today, this day is also called Taurus Sakranti, Vrisava Sakranti, and Brish Sakranti. It is time to move from the first month to the second month of this year, the situation is unfavorable due to the COVID outbreak. Last month we spent a lot of time in the woods inside the house, although the coming month of May will create a situation for us to move and shake, right?

Let's wish so. On this day, it is customary to bathe in the river or the lake, although in recent years and in places where the river is not available, it is customary to bathe in the house by chanting the mantra of Ganga and to perform holy worship. It is customary to go to the nearby Vishnu temple, worship and recite Vishnu Sahasranama. On this day, special results are obtained by offering Pitri Tarpans. Under normal circumstances, on this day, Kagweni, Gokarna, Vishnupaduka, Varahakshetra, Gaya of India, Kashi, and other places have special pilgrimage.
Stay safe, as Nepal is now dealing with the peak of COVID infection and death. Safety and love wishes.

International Day of Families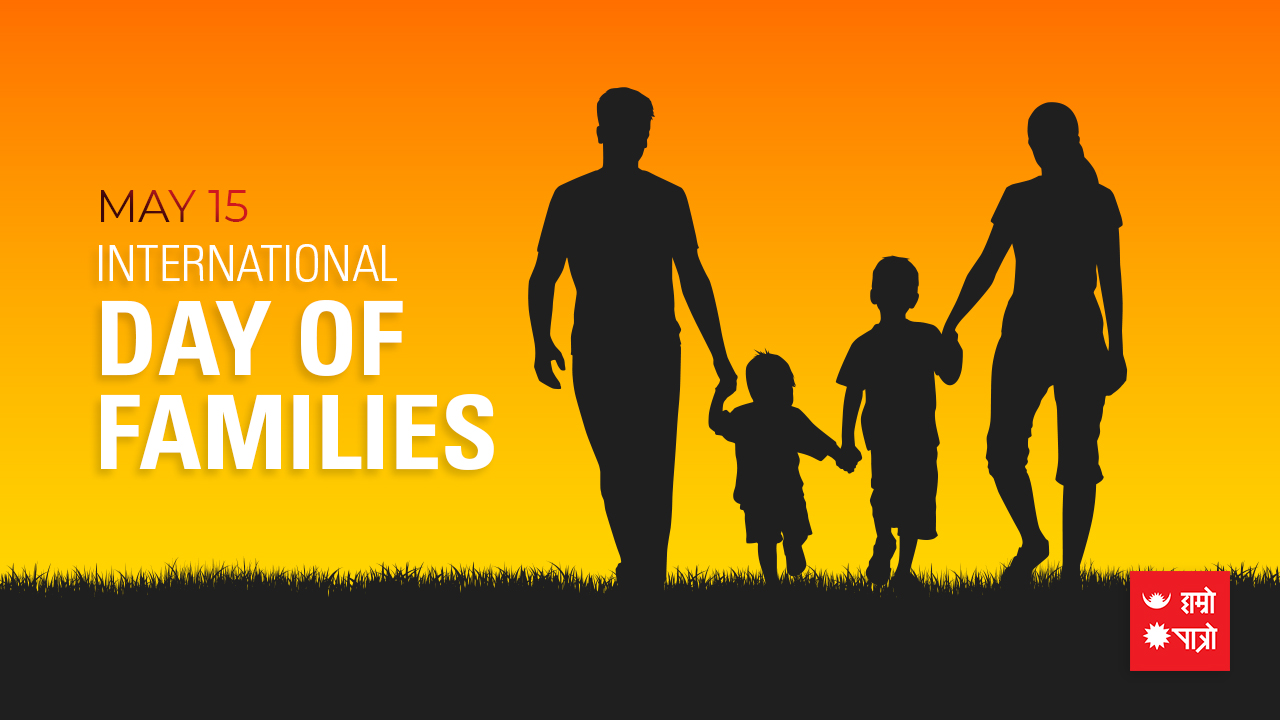 Happy Family Day to all family members of Hamro Patro, crossing over 10 million and more to go.
Now let's talk about our family and family matters.

Generally, fathers, mothers, children, uncles, aunts, grandmothers, and grandfathers together form an average Nepali family. Although the regular development has gradually transformed and replaced the joint family into a nuclear family, no matter what the form of the family is, family values ​​are a very important lesson for the next generation. Family Day is celebrated around the world today, advocating for early childhood education and a child and youth-friendly family environment.

Today, it also explains the role of guardians in the family, whether they are fathers, mothers, grandfathers, grandmothers, or grandparents.

It also spreads discussion and awareness about family and work balance environment, positive family behavior, and intergenerational communication, to this day. A family made up of individuals and a society made up of families and a society made up of societies, today advocate the role of the family in the overall transformation of the country and the transformation of the world through it.

The family sometimes makes us narrow, not only in the family and community but also in the world today to send a message of family and people around the world with a sense of global brotherhood. Every family in today's world needs inclusiveness. Being inclusive and accepting members of every class, creed, caste, religion, or thought broadly is also needed. Family education is also very important for an inclusive family, today, various radio programs, seminars, TV programs, workshops, cultural programs are held all over the world to reflect the importance of family.

May 15, every year is celebrated as Family Day following the call of the United Nations from 1993 AD. In Nepal too, with increasing modernity and development, family values, beliefs, and concepts are declining.

On top of that, the increase in the number of family members going abroad for livelihood has started to hurt family and social sentiments. In this difficult situation, all of us need to understand family values, belongingness, harmony, unity, and equality. The form of family, society, and country has been changing in every age.

The 2021 observance of the International Day of Families focuses on the impacts of new technologies on the well-being of families and follows up on the theme of the 59th session of the Commission for Social Development "Socially just transition towards sustainable development: the role of digital technologies on social development and well-being of all."

By broadening the thinking and ideals of our family, we can enlarge the environment for living life. Let all the members have value in what is needed, let no one in the family be afraid of unnecessary things, let there be no resentment, and let democracy be maintained even within the family.

Happy World Family Day to all fathers, mothers, brothers, and sisters

Lalitpur Matsyanarayan Ratha Yatrarambha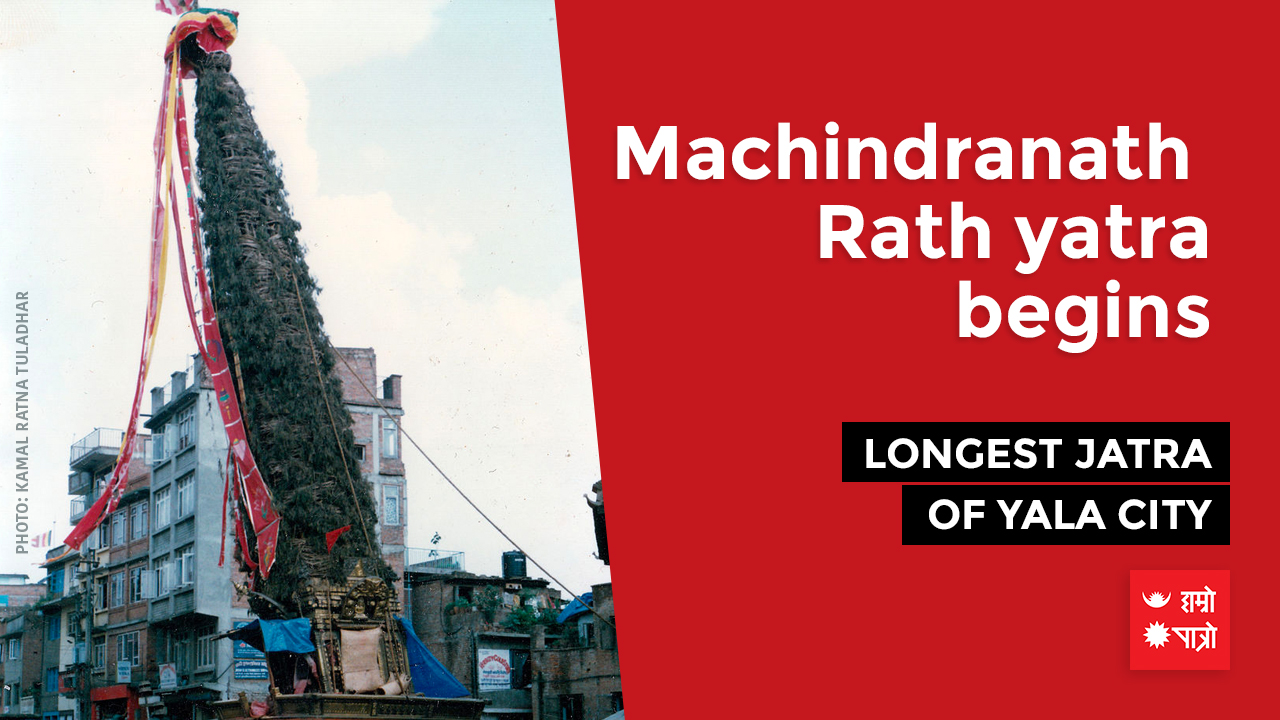 Kathmandu valley annually commemorates the chariot festival (Jatra) on the glory of Yogi Matseyanandrnath since 1600 years and even more. This Jatra lasts for two months starting from Baisakh Shukla pratipada till Asar Shukla Chauthi. Today, on the Tritiya Tithi, the movement of the holy chariot is beginning, may every cyclic movement of the chariot brings peace, calmness, and prosperity, may the world be normal again.
The cultural and religious significance of Jatra is of particular importance, says the cultural expert.

The Jatra, which is one of the most important of Patan and the longest Jatra of the valley has been carrying an undisputable discipline and symmetrical faith prehistoric. Today is the commencing day of this Jatra, my utmost prayers for Matsenyanandrnath before I begin my write-up by reintroducing Yogi Matsenyanandrnath through my drab words and naive explanations, forgive me if any wrong judgment. Yogi Matsenyanandrnath is a Siddha who can control the forces of nature, he is hugely observed as a lord of rainfall in Nepal. One who practices Yoga is called Yogi and Yogi Matsenyanandrnath is a Siddha who is also acknowledged for delivering his knowledge to Gorakhnath, Yogi Gorakhnath is hugely worshipped across the globe and the Nepali royal clan expresses their large proximity with the rituals in offering and worshiping Yogi Gorakhnath. Go means "Earth" and Rakh means to protect, the entire earth is protected by a boy called Gorakhnath who is not just a disciple but also a son of Yogi Matsenyanandrnath. There is a very interesting story of the manifestation of Gorakhnath by Yogi Matsenyanandrnath, I will elaborate on that story some other day. In Sanskrit Matsenyanandrnath translates to the lord of fishes, Yogi Matsenyanandrnath is Maha svarupa, and Matsya Svarupa, he is a founder of Kaula tradition.
Let me explain Kaula to you, it is said that Yogi Matsenyanandrnath spent twelve years in the belly of fish in the ocean (this is called "Kula"). Kula is also described as an illusion that is mastered and defeated by Yogi Matsenyanandrnath, "Kaula" is the origin of Vajrayana Buddhism and Kashmiri Shaivism.
oṁ siddha yogī matsyendra nāthāya namaḥ

Matsenyanandrnath or Machindranath is called Bunga Dyah in the local Newa language, recognized by both (Hindu and Buddhists) as an incarnation of Lord Shiva in Hindu and as an incarnation of Avalokiteśvara in Buddhism.

At the beginning of the Jatra of Lalitpur-based Red Matsyendranath, the idol of Karunamayi is made from the soil of the present Mahepi hill and the spirit of the Karunamayi in the Kalash is established in that clay idol. That idol is washed today, all these rituals happen under delicate supervision and keen involvement of community people. This auspicious chariot is then carried and placed in several avenues of Lalitpur city during these two months of the Jatra celebration, finally, after showing the auspicious "Bhoto" at Jawalakhel this Jatra concludes and the idol is respectfully carried to Bungmati. The ancient village of Bungmati is the birthplace of Yogi Matsenyanandrnath, this is where the holy idol of Matsenyanandrnath rests for the next six months after the chariot festival.
This year is adverse and congregations are forbidden because of the Corona crisis. Lord Matsenyanandrnath has a million Kripas upon us, may his blessings and leadership drive us.

Meaningful wishes

Suyog Dhakal