Parama Ekadashi | International day for disaster reduction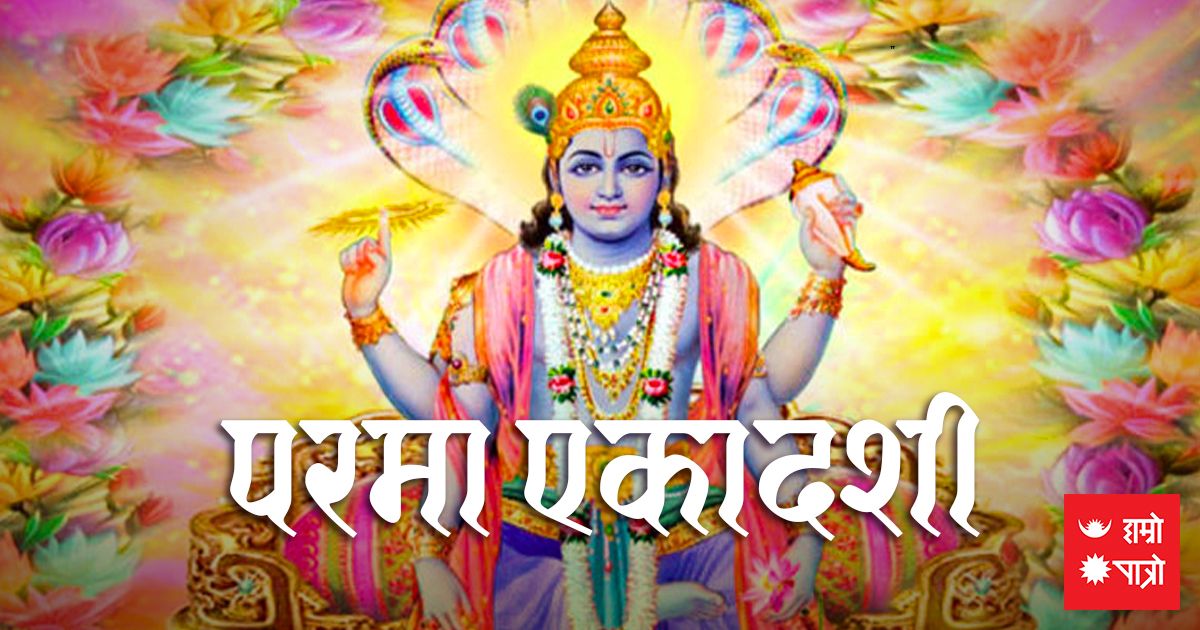 We wanted to stir up a dialogue between Krishna and Yudhisthira.

Yudhisthira Maharaj asks, O Jarnadan, which is the Ekadashi on the Krishna side of Purushottam Mass? How to take its brat and what is its glory? Lord Krishna, Himself is present in the answer, let's start the story of Parama Ekadashi from here today.

Sri Krishna, the lord of consciousness, began his reply by saying that this courageous day and holy day is called Parama Ekadashi. It is said that by fasting on this Ekadashi, life will be meaningful, all sins will be eradicated, suffering will be removed and salvation will be achieved. In this Ekadashi, Lord Krishna himself is worshiped. Answering Yudhisthira's question, Lord Krishna narrates in detail a Vrata Katha he heard from a sadhu of Kampilya Nagar. Since this Ekadashi falls only in Adhikamas i.e. Purushottam month, it comes only once in 3 years, this Ekadashi with incomparable fruit is unique and extensive. Let's listen to the beautiful story of this Ekadashi.

A devotee Brahmin Sumedha and his wife Pavitra lived in Kampilya Nagar. Sumedha was very poor and used to feed his family by gathering Vikshya. Sumedha, who was begging for a living, could never have enough resources in his house, but her beautiful wife Pavithra always served and supported her husband. This is a story of an ideal couple from the ancient time.

The saint's wife is destined to be extremely poor and suffer from the sins of her previous karma, in some cases, she has to feed guests and even starve herself. Even so, there is no shortage of radiance and endurance in the face of the saint and his wife.

Seeing his wife's suffering due to poverty, one-day Sumedha tells his wife that he wants to go abroad and earn money to alleviate their suffering. Pavitra says that she is with her husband in every decision, but Pavitra does not mean to support her husband's decision to go abroad alone. And at the same time, Kaudinya Muni arrives at their house. Welcoming the sage according to her status, Pativrata Pavitra asks about the way to get rid of poverty. Muni explains Sumedha and Pavitra, respectively, by associating the glory of Ekadashi with the eradication of poverty and the emancipation of problems, on the Krishna side of the Purushottam month. Muni explains that this Ekadashi vow is associated with sin, poverty, and loss.

From what Lord Shiva told King Kubera of wealth to take this fast, to the example of King Harishchandra who got kingdom and house due to this Ekadashi fast, Muni tells Sumedha and Pavitra. In this way, after listening to the beautiful story of Ekadashi fasting, Sumedha and Pavitra do the same and it is mentioned in Ekadashi Mahatma that their suffering and poverty has been alleviated.|

It seems that the story of Sumedha is in line with the current Nepali environment, with the thought of going abroad for earning millions of Nepali are working abroad. On this occasion, let Manohar warmth of Ekadashi communicate total destiny, deeds, and devotion in the land of Nepal.

"ॐ नारायण विदमहे वासुदेवाय धिमही थन्नो विष्णु प्रचोदय"

It means: Let me take refuge in Lord Narayana, may Lord Vasudeva grant me wisdom and may Lord Vishnu grant me the light of knowledge. When chanting any mantra, it generates energy in our body and it has to be transmitted to the universe or our environment. In this way, this power can be imparted to the universe in the form of tarpana by chanting the Tatsa Brahmarpan Mastu Mantra. When we provide the universe with tarpan, the universe re-energizes us. Ekadashi fasting is effective not only in terms of religion but also in terms of health, so it is good. This Ekadashi will come again only in the next 3 years, best wishes to all on this auspicious day. May greenness dwells in the mind and body of all, may mercy be in the heart and may compassion in the eyes.

International day for disaster reduction.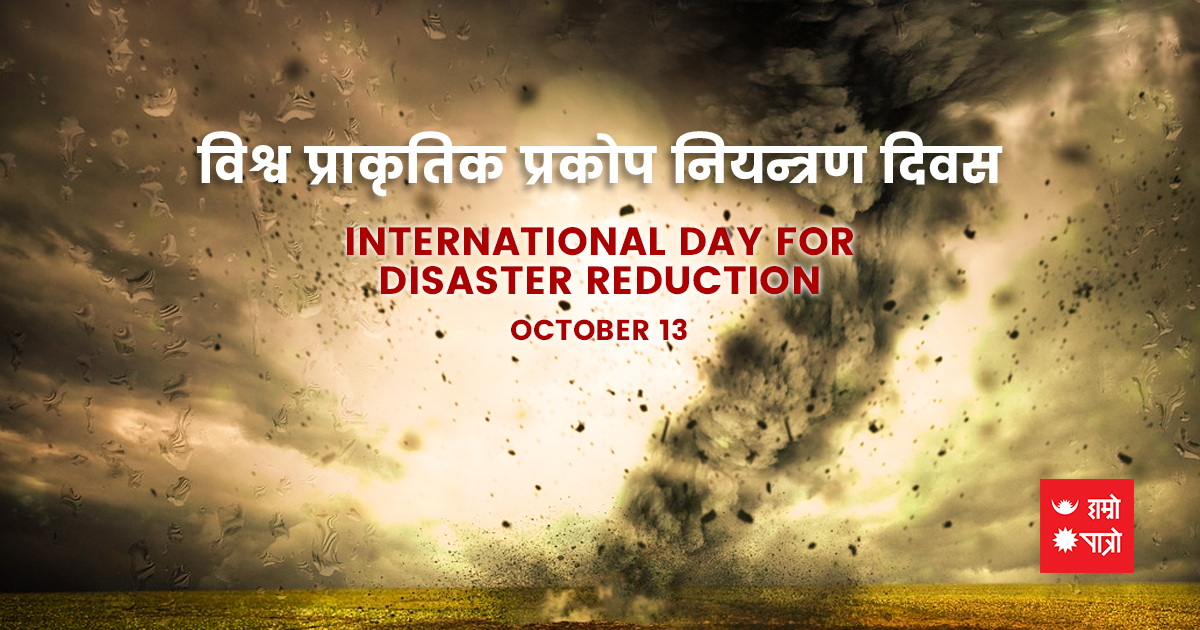 Today there is a flood in such and such a place!
Landslide hit this place today!
The earthquake took so many people!
The volcano did this and so many other news related to natural disasters hit headlines year-round.

News of natural disasters has taken on a new dimension this year, if the corona infection is also considered a natural disaster and a biological threat to mankind, with millions dying and billions infected. International day for disaster reduction, 2020 will be a special advocacy to deal with many natural disasters in solidarity.

Every corner of the globe and the entire geography is at risk of various natural disasters. Moreover, human activities, unselective use of natural resources, climate change, etc. have increased the risk of natural disasters.

Every year, the world community celebrates October 13 as World Natural Disaster Control Day. This day is very important for spreading awareness through various programs, conventions, seminars, etc., and for minimizing the damage. However, meetings and seminars on this day for this year are entirely going digital, from one's home and screens. We can't control natural disasters, we can only minimize the damage by taking precaution and preparedness, can't we? The day was started by the General Assembly of the United Nations in 1989 to increase the preparedness and awareness against natural disasters and even today, various media outlets around the world are spreading effective knowledge, skills, and ideas on this subject.

At the same time, the United Nations has a plan to raise awareness in the community, the nation, and the region, to increase access to preparedness, and to make special calls for the protection of victims. Nepal, which is known to the world community for its diverse terrain, climate, and water resources, has also faced many natural calamities from time to time, be it occasional earthquakes or this year's severe floods, landslides, geographically diverse and complex Nepal. The sad thing is that Nepali has inadequate disaster control skills and information, which can lead to additional losses and risks. We have already seen that the earthquake has raised serious questions about the access to mainstream drinking water, health facilities, and basic things, even in the capital Kathmandu

That condition of the capital easily describes the situation of relatively remote villages. It is even more unfortunate that the Nepali academic curriculum still lacks experimental practices and practical topics for natural disaster control. Even more impractical developmental knowledge, such as the knowledge that staying under a table or inside a house during an earthquake, is the exact opposite of putting one's life in danger and one's life at risk of death. Nepal needs comprehensive and community-friendly disaster risk preparedness messages and practices. If there is a natural disaster on Nepali soil, there is still no minimum preparedness.

It is also unfortunate that a handful of natural disaster control and awareness programs are largely in the hands of NGOs (Non-Governmental Organizations). Probably a factor as to why progress is happening so poorly. Equal participation of both government and non-government is essential in such sensitive issues. Today, it is important for Nepal to understand and embrace all these things with the world community. Let's build natural disaster prevention and resilience structures, let's make the next generation aware of its preparedness.

Suyog Dhakal