Varaha Jayanti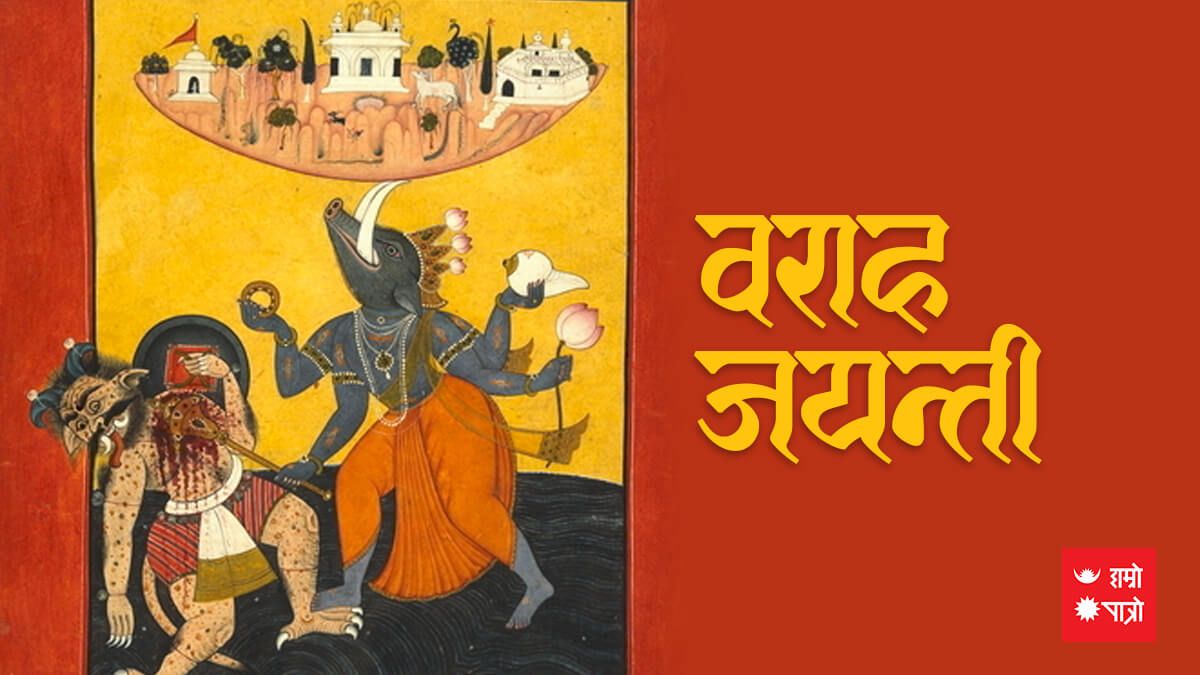 The feet of the Varaha incarnation represents the Vedas, his teeth represent the sacrifice, his eyes represent day and night, and his head represents Lord Brahma.

Being a part of the infinite Trinity, Lord Vishnu periodically took ten incarnations which is called "Dashavataara". Dashavataara took place every time the world was in turmoil. Allow me to describe on Varaha Avataar, dedicated to the name of Sri Hari. The third lunar day of Bdahrapada month is observed as Varaha Jayanti. Varaha means the bore avatar of Lord Vishnu, today is the commemoration of the second avatar of Vishnu as Varaha avatar and the defat against demon Hiranyash. This incident is believed to happen at SatyaYuga.

When the demonic forces of injustice and oppression activated on the earth, then we must have heard many stories of God coming to the earth in one form or another and destroying that evil force. According to the Rig Veda, the incarnation of Varaha saved the stolen earth and reinstalled the creation, possibility, and lives on this soil.

In the Satyayuga, the terror of Hiranyaksha, the son of sage Kashyap, was increasing day by day. Hiranyaksha was blessed by Lord Brahma to win the war and remain immortal. All the gods were worried because the demon Hiranyaksha stole the earth and hid it. Then on this day, the incarnation of Varaha appeared through the nose of Lord Brahma. Because of its appearance from the nose of Brahma, Varaha incarnation was first called the incarnation of Lord Brahma, but later everyone accepted Varaha incarnation as the incarnation of Lord Vishnu.

At that time, seeing the Varaha incarnation of Vishnu, all the gods were pleased and started praising him. With the help of a pig-like instrument, the Varaha avatar grabbed the earth hidden in the water with its teeth and pulled it out. All the gods were happy but when Hiranyaksha found out about this, he challenged the Varaha incarnation of Lord Vishnu for war. Then Lord Vishnu surrounded Hiranyaksha as Varaha incarnation and killed him.
Before the incarnation of Varaha, Lord Vishnu had appeared in the incarnations of Matsya and Kurma, but before this, in his two incarnations, his head was like that of a human, the body of an animal, and in the incarnation of Varaha, his head was like that of a wild boar and his body was like that of a human.

Hiranyakashyap's brother Hiranyakashyap was killed by Lord Vishnu in the form of the fourth incarnation, i.e. the Narsimha incarnation.This Varaha incarnation has given a new beginning by saving the earth from the cataclysm.

Suyog Dhakal