Mahalakshmi Mahavrata concludes today, simplicity and tenderness of the goddess of wealth and prosperity.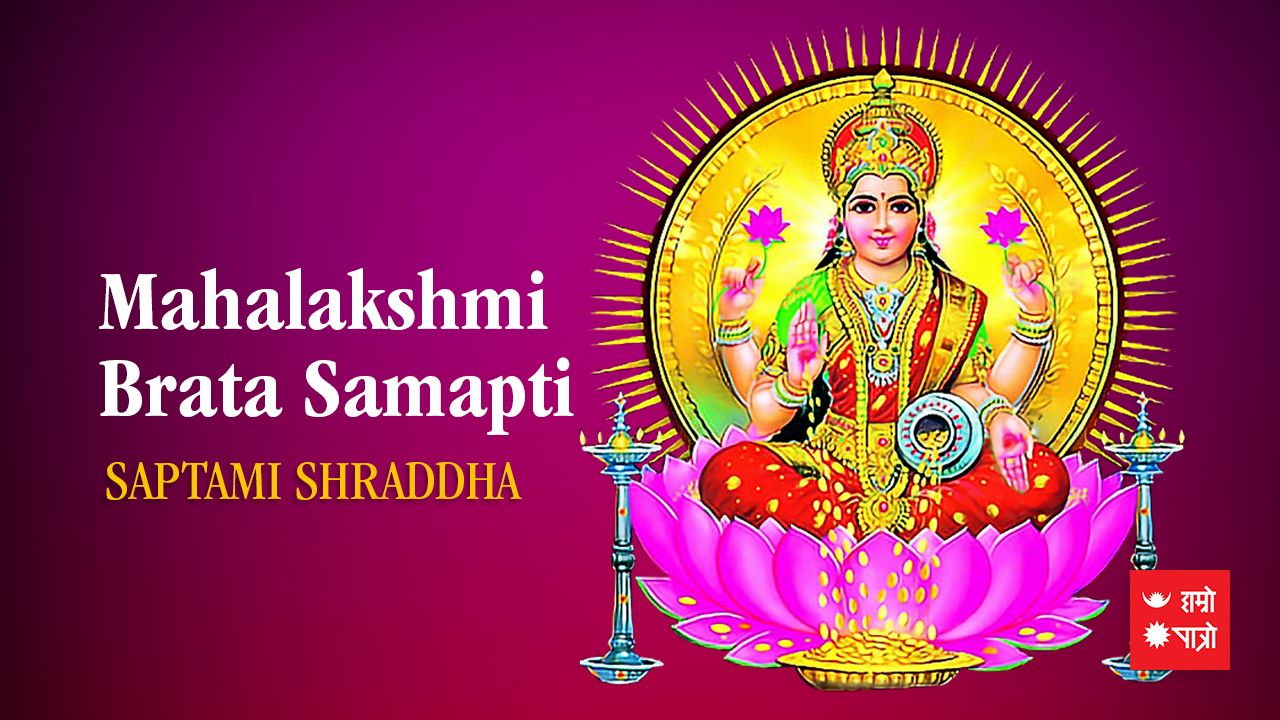 Today, Krishna Saptami of Bhadrapad, i.e. 16 days of Mahalakshmi's Vrata series is being concluded today. Welcome to this year's 16-day holy series of Mahalakshmi Vrat. In these 16 days, Goddess Mahalakshmi, the goddess of wealth and auspiciousness, is worshiped. Goddess Mahalakshmi appeared during the Samundra Manthan process from Ksheer Ocean (Ksheer Sagar), she is married to Lord Vishnu or Sri Hari. Every now and then metal coins fall from the palm of the hand of Goddess Lakshmi seated on the lotus flower. If you look at these images, the goddess of wealth is an idol of tender heart and an easy presence.

The gross world pursuing wealth needs to learn a lot from Mother Lakshmi's simplicity and tenderness. In these 16 days, the devotee who worshipsed Goddess Lakshmi faithfully attains wealth and prosperity. The longevity of wealth and prosperity depends on human service and good deeds. Mother Lakshmi is largely pleased with human service and humanitarian work.
Milk, sandalwood, and dairy products are used to worship Goddess Lakshmi, holding a garland of lotus seeds and chanting Goddess Lakshmi's following mantra is super beneficial.

The following are the Sanskrit texts and simple Nepali meaning of Mahalakshmi Mantra only available in Hamro Patro, Nepal's most downloaded mobile application.

करिष्यकहं महालक्ष्मि व्रतमें त्वत्परायणा ।
तदविघ्नेन में यातु समप्तिं स्वत्प्रसादतस् ।।

That is to say, O Goddess, I will be faithful to this Mahavrat here and will be faithful to it.

May the success of this fast be good for all, may the economy be stressed by the Corona disaster be recovered by the grace and May Mother Lakshmi live in the homes of every daily wages workers.

Best wishes!

Saptami Shradhaa

Stretching from Purnima to Amavasya of Bhadrapada, this Pitri Paksha has its peculiar importance. Nepal's most downloaded mobile application "Hamro Patro" redefines you and simplifies the cultural, scientific, and social importance of every event and on this convoy, let me elaborate this Saptami Shradhha or Chath for you.

Saptami is the seventh day of the lunar month. This is the day that is highly considered to perform Shradh of those who passed away on the Saptami tithi of any month.

During these 16 days of Tithis, Hindu Sanatana followers perform the Shradhaa karma of their ancestors on the respective Tithis of their demise, irrespective of the month or Sukla or Krishna Paksha. This day is important for performing Shradhha or Tarpan of the ancestors who died on this Tithi. Blessings of ancestors who visit their descendants during this period of Sora Shradhaa is highly anticipated and acknowledged. This year came with COVID adversities, circumstances are unusual but strong hope of returning to normal is further strengthened.

Meaningful wishes

Suyog Dhakal