Padmini Ekadashi | World Tourism day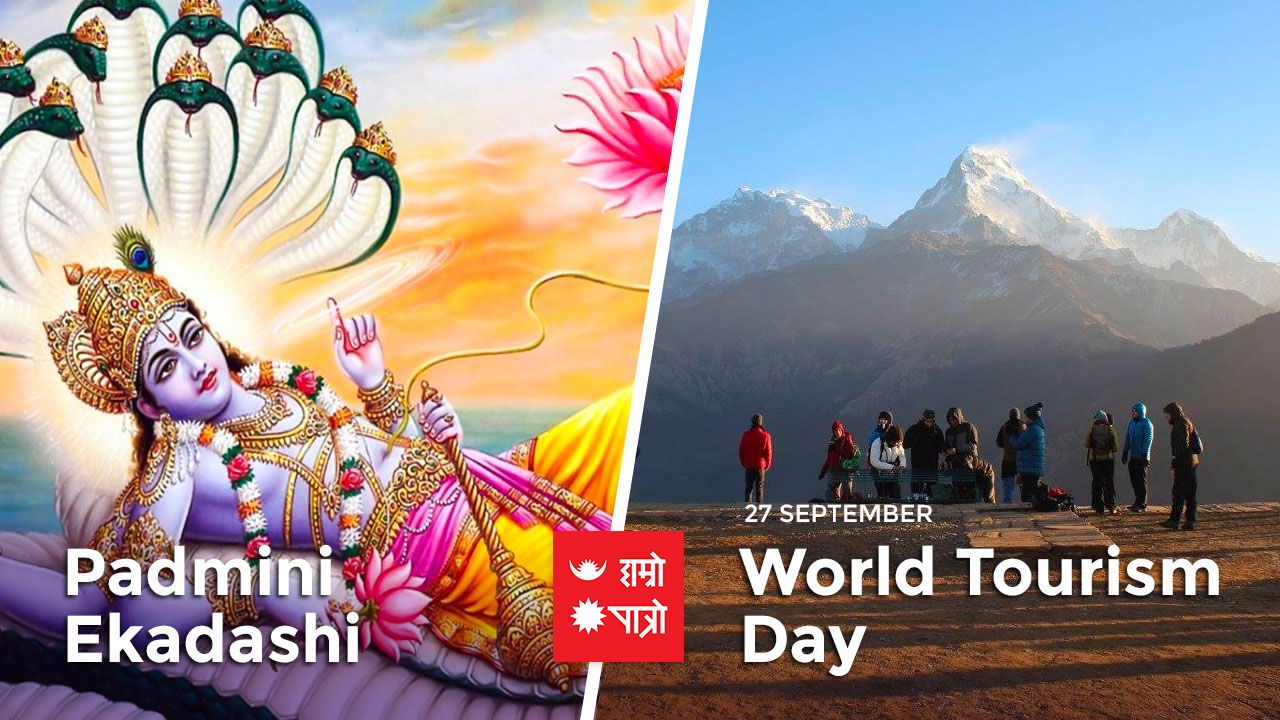 Padmini Ekadashi falls on the Ekadashi date of the Shukla Paksha of the Adhika mass or month, which is also called Malamas. The glory of this Ekadashi is associated with the birth of Kartavya Arjuna, let's discuss the story, method, and relevance of this Ekadashi in modern times.

Kartavya Arjuna was born in the 13th month of the Hindu calendar, regardless of whether it is Malmas or Adhimas, this is a Purushottam month where supreme personalities are developed, manifested, and born. Due to the gravity, colossal goodness, and purity of this Ekadashi, Padmini Ekadashi is considered for the purification of the body, soul, mind, and thoughts.

This Ekadashi glorifying Sri Hari Vishnu is also called Kamala Ekadashi. It is considered essential to have Hari in the mind, Hari is a consciousness and also the form of God. Therefore, our Eastern Sanatan Saskar calls for every human being to have Hari in their minds.
Even in Srimad-Bhagavatam, since there is an abundance of sins in Kali Yuga, it is said that the simple way to attain salvation can be obtained by chanting, following Harinam, and self-realization. According to the Padma Purana, chanting Hari is said to attain Baikuntha.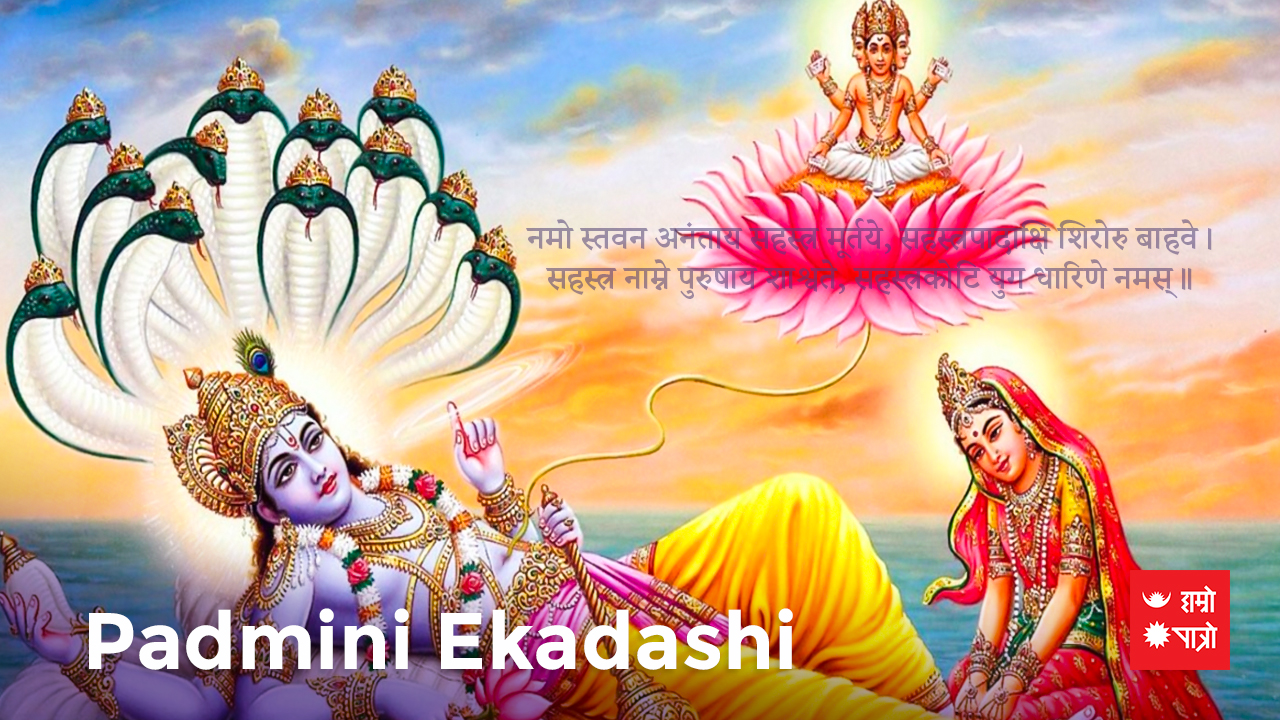 In the Vedas and Puranas, Lord Vishnu is considered to be the guardian of the universe and the cycle of happiness and sorrow associated with human life is said to be in the hands of Hari. By emphasizing this characteristic of Hari, Bishnusahasranama text containing thousands of names of Lakshmipati Hari has been engraved. It contains sheer names and explanations, the immense sweetness and sanctity of the Sanskrit language is revealed in this book.
Until a few decades ago in the Nepali life environment, this scripture was included in the text to recognize the letters, to read and every morning, but over time, we have been abandoning such worship, study, and devotion in the name of modernity.

नमो स्तवन अनंताय सहस्त्र मूर्तये, सहस्त्रपादाक्षि शिरोरु बाहवे।
सहस्त्र नाम्ने पुरुषाय शाश्वते, सहस्त्रकोटि युग धारिणे नमस्।।

This mantra is one of the most powerful and meaningful mantras of Hari which also connects the two streams of Sanatan Saskar, Shiva Marg, and Vaishnav. Vishnu, meaning Hari, is addressed as Shiva, Shambhu, Ishaan, and Rudra.

In the Mahabharata, Bhishma's grandfather, who had the gift of wishing death, was waiting for death in the bed of arrows, and Yudhisthira asked him about the Lord of the Universe. At this time Bhishma has mentioned Vishnu Sahasranama showing the importance of Hari. Bhishma says that the chanting of this Sahasranama, which is revealed in hundreds of ways and meanings of every name Harika, will accompany human beings in every age and increase the meaning and presence of life.

The modern Sanatan Saskar must have been overshadowed, but the root of science is found to be here and gone from here. Every 15 days of Ekadashi, Satvik food, fruits, devotion, and devotion make the human heart happy. Prolonged diagnosis of various stomach issues, insomnia, depression, blood pressure, and other diseases can easily be cured by fasting and devotion of these Ekadashis. Ekadashis have been inspired for centuries to make people present and loving and peaceful.

Best wishes

World Tourism day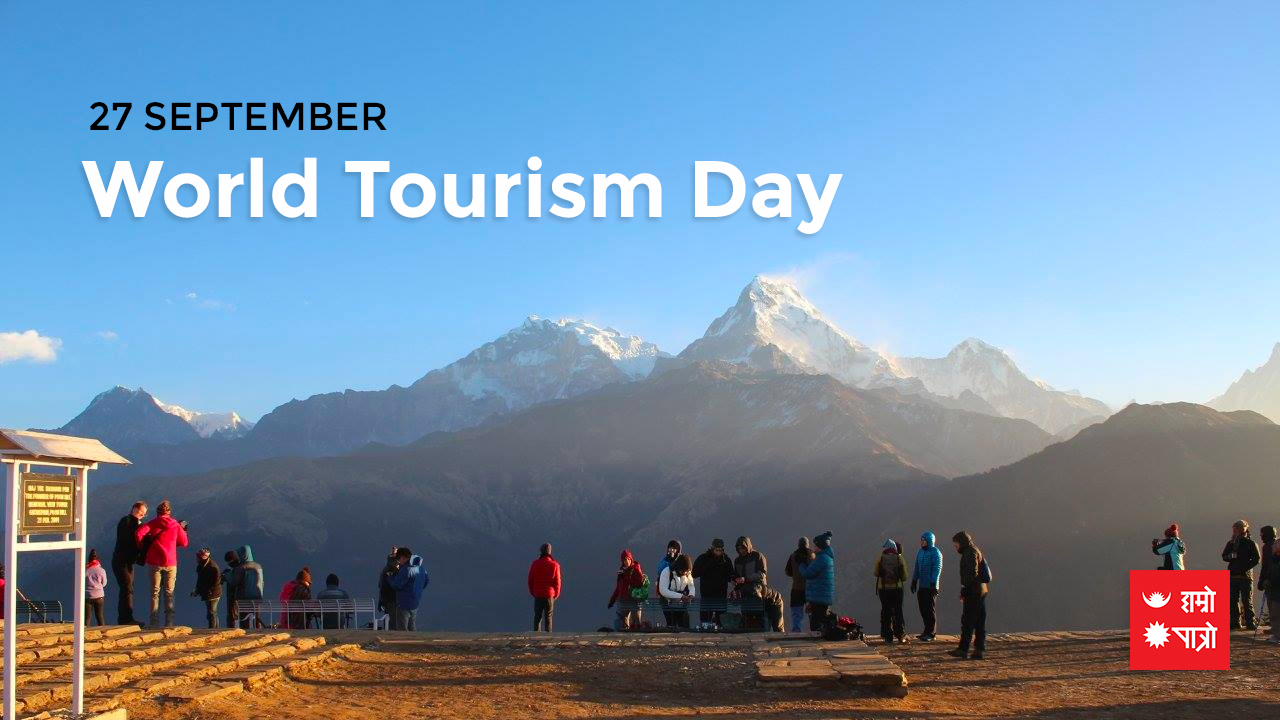 In April, a group of Japanese who were ready to come to Nepal for mountaineering could not make it. Confined in their own homes due to the Corona epidemic, there are many such stories this year. Nepal's Drishti Adhikari had planned to trek the foothills of the Ganesh Himal via the Lapa Valley this year, but these things had to be put on hold until the situation returned to normal.

The big hotels are on the verge of closing, the salaries of the staff working there have been reduced, the rooms are waiting for the guests and the guests are waiting for the opportunity but tourism has become just a dream this year.

Huge planes like the A380 have been grounded, there are silent airports, and the biggest impact this year has been on the coronavirus, in tourism. Remember, tourism is the biggest business in the world, this year every aspect of this business has been badly weighed down. I would like to remind everyone of World Tourism Day, September 27th.

Tourism for All: International Tourism Day is celebrated every year on September 27 with the slogan of promoting accessible global tourism.

Tourism is the biggest industry in the world, tourism must be accessible to all. Whether we are living at home or traveling somewhere, maybe because of some disability or injury or because of having young children, because of a family, or because of old age, the elderly are being deprived of some way to go or take advantage of tourism. But sooner or later, the worldwide easy access to tourism and the benefits of tourism should be available to all.

Easy tourism should be accessible to everyone in the world so that we can observe the beauty and diversity of the planet Earth. The meaning of life is certainly not narrow, in a broader context life means understanding new things, moving to new places, and gaining as much knowledge and experience as possible. Marco Polo, Vasco da Gama, Captain Cook, and others, whose explorations and travels have spread the wave of culture, civilization, and development in the world, also set out to discover new things and find new places and connect the world.

On the other hand, tourism helps in earning foreign exchange, creating employment, sources of public and private income, cultural exchange, and enhancing the image of the nation. Let us warmly welcome the tourists to be our guests, let the hospitality be maintained, let us be at the forefront of tourism with different currents, and transition zeal in the post-COVID world. Good luck.

Suyog Dhakal